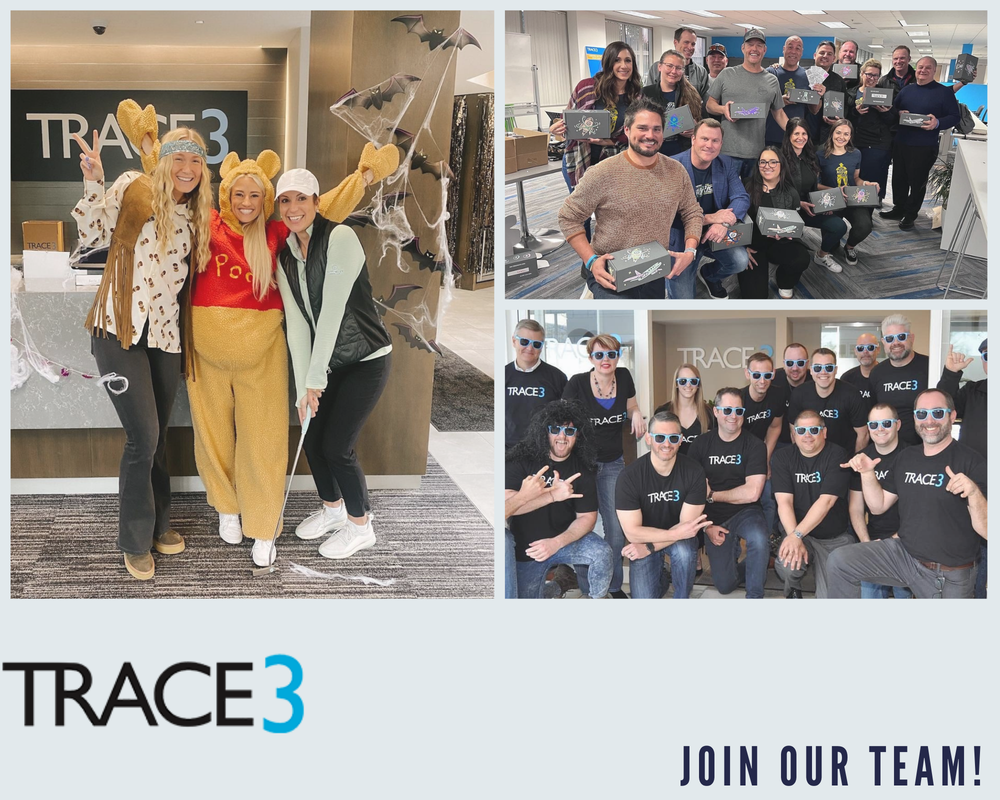 Who is Trace3?
Trace3 is a leading Transformative IT Authority, providing unique technology solutions and consulting services to our clients. Equipped with elite engineering and dynamic innovation, we empower IT executives and their organizations to achieve competitive advantage through a process of Integrate, Automate, Innovate.
Our culture at Trace3 embodies the spirit of a startup with the advantage of a scalable business. Employees can grow their career and have fun while doing it!
Trace3 is headquartered in Irvine, California. We employ more than 1000 people all over the United States. Our major field office locations include Atlanta, Denver, Detroit, Indianapolis, Grand Rapids, Lexington, Los Angeles, Louisville, San Diego, San Francisco, and Scottsdale.
Ready to discover the possibilities that live in technology?
Come Join Us!
Street-Smart - Thriving in Dynamic Times
We are flexible and resilient in a fast-changing environment. We continuously innovate and drive constructive change while keeping a focus on the "big picture." We exercise sound business judgment in making high-quality decisions in a timely and cost-effective manner. We are highly creative and can dig deep within ourselves to find positive solutions to different problems.
Juice - The "Stuff" it takes to be a Needle Mover
We get things done and drive results. We lead without a title, empowering others through a can-do attitude. We look forward to the goal, mentally mapping out every checkpoint on the pathway to success, and visualizing what the final destination looks and feels like.
Teamwork - Humble, Hungry and Smart
We are humble individuals who understand how our job impacts the company's mission. We treat others with respect, admit mistakes, give credit where it's due and demonstrate transparency. We "bring the weather" by exhibiting positive leadership and solution-focused thinking. We hug people in their trials, struggles, and failures – not just their success. We appreciate the individuality of the people around us.
About the Role:
The Regional Sr. Director of Services Sales will own and lead the services growth strategy in the region. This position will define the region's services go to market, strategic account plan, build the opportunity funnel, and secure services business. The value of the role is in the Services Sales Leader's ability to flex to current priorities, adapt to the strengths and areas of opportunities of the teams they work with, and to provide year-over-year services growth. The Regional Sr. Director of Services Sales will be responsible for the region's services' financial targets while developing and executing programs and services that provide differentiated value to Trace3 customers.
What You'll Do:
Regional Leadership:
Work closely with services delivery leader and regional sales team members to align on strategic account plan and execution to achieve regional services goals
Onboard new team members to create alignment with regions services goals
Educate and provide sales enablement for regional team members on Trace3 services offerings
Act as the Services Legends Program regional champion
Lead efforts and be the glue between the engineering (Office of the CTO) and sales teams (e.g., client proposals, scope, and costing, fluent in Trace3 services offerings, etc.)
Sales Leadership and Opportunity Generation
Create and establish the ongoing measurement of the region's Annual Services Strategic Growth Account Plan
Responsible for influencing and owning quarterly financial results for the region
Provide month, quarter, and year forecast guidance to regional General Manager (GM)
Create a growth strategy for each client based on sales rep input, Total Addressable Market (TAM), Trace3 offerings, etc.
Responsible for client facing meetings and representing Trace3's services portfolio
Provide a feedback loop to the engineering teams from a Sales and Client perspective (e.g., communicate trends and needs from Clients for offerings that can be standardized or leveraged across multiple clients)
Financial Management:
Hold regular pipeline meetings with sales and delivery team members to review sales pipeline and forecast to increase awareness of opportunity timing, staffing requirements, etc.
Drive the sale of offerings that will ensure region meets billable utilization requirements
Perform monthly and quarterly health checks and business updates; communication to leadership on the progress of the plan and any recommended changes to achieve
overall services goals
Qualifications & Interests:
Bachelor's degree from an accredited university or relevant professional services management experience
A minimum of 8 years in a related services environment
Demonstrated success in scaling and profitably growing a services business focused on predictable implementation and hitting core metrics
Able to manage contract modifications and lead of negotiations surrounding contract scope, cost, and schedule
Strong financial and business acumen with understanding of a multi-faceted business operation
Proven expertise in the development and delivery of accurate and timely weekly, monthly quarterly, and annual sales forecasts
Ability to listen, build rapport, and credibility as a strategic partner vertically and horizontally within business units; able to build bridges across teams and job functions
Highly skilled and experienced at negotiating conflict and problem-solving to achieve win-win outcomes
Excellent oral, written communication and presentation skills with an ability to present to C-Level Executives
Ability to complete multiple tasks concurrently and deliver results under timelines and pressure
Holds valid driver's license
Able to travel when required
The Perks:
Comprehensive medical, dental and vision plans for you and your dependents
401(k) Retirement Plan with Employer Match, 529 College Savings Plan, Health Savings Account, Life Insurance, and Long-Term Disability
Competitive Compensation
Training and development programs
Stocked kitchen with snacks and beverages
Collaborative and cool office culture
Work-life balance and generous paid time off
***To all recruitment agencies: Trace3 does not accept unsolicited agency resumes/CVs. Please do not forward resumes/CVs to our careers email addresses, Trace3 employees or any other company location. Trace3 is not responsible for any fees related to unsolicited resumes/CVs.