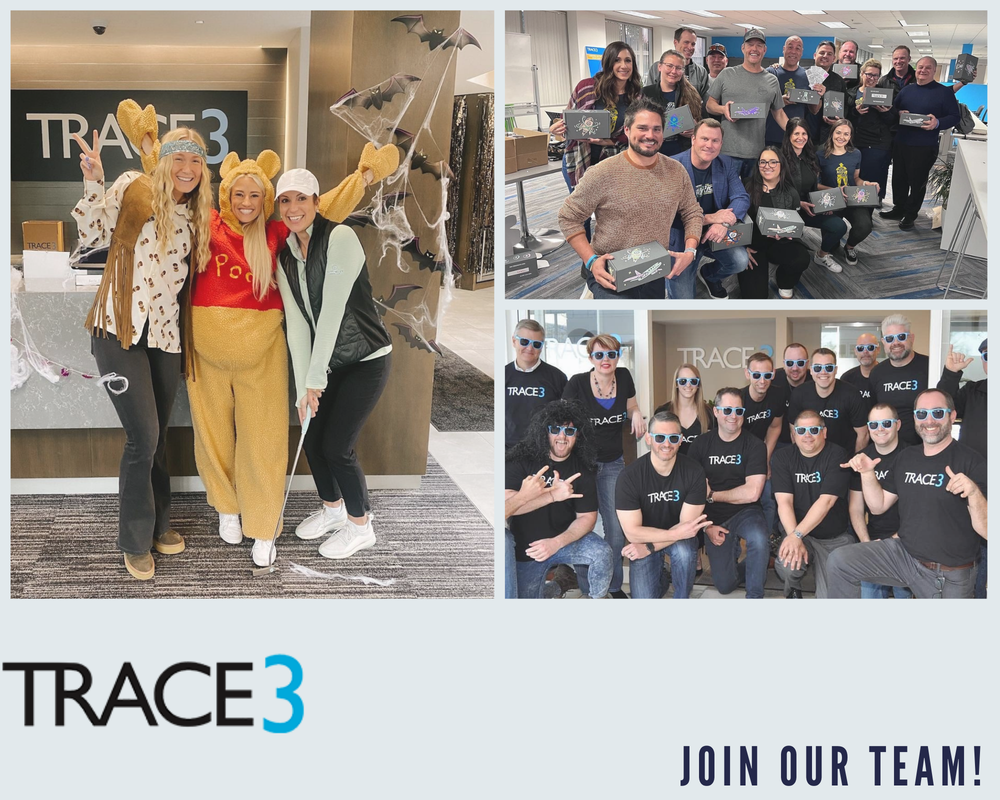 At Trace3, we believe that all possibilities live in technology.
Who is Trace3?
Here at Trace3, our vision is to always be an innovator, act with strategy, and commit to business value realization by operationalizing new technology solutions with world class consulting and elite engineering.
We are leading transformative IT gurus, providing our enterprise and commercial clients with unique technology solutions and consulting services. Through a process that we like to refer to as Integrate, Automate, Innovate, we empower IT executives and their organizations to achieve competitive advantage.
What is the Trace3 Culture?
We are a company of cool people, working with cool tech, solving cool problems. The Trace3 culture embodies the spirit of a startup with the advantage of a scalable business. Employees can grow their career and have fun while doing it!
Trace3 Facts:
We're headquartered in Irvine, CA and have 26 locations throughout the US, employ more than 1,000 people and growing.
Our suite of products and services fall under one of three categories: solutions, services, or enablement.
The markets we service include Cloud, Data Intelligence, Modern Infrastructure, and Security & Networking.
Trace3 DNA:
TEAMWORK - We are humble individuals who understand how our job impacts the company's mission. We "bring the weather" by demonstrating leadership, character, and passion.
STREET SMART - We are flexible and resilient in a changing environment. We get the bigger picture. We understand why our job matters to Trace3 and how to help grow the business.
JUICE - We are well-respected achievers who get things done and drives results. We lead without a title, empowering others and inspiring trust.
Trace3 – More Than a Job:
Trace3 Heroes - An integral part of our makeup is the significant community of veterans we have as Trace3 team members.
The Trace3experience - We believe our mission is to lift and secure the futures of our clients, employees, partners, and ultimately our communities. The Trace3xperience Program creates a vital bridge between businesses, education, and the ecosystems we support.
Trace3 Cares - A unique program designed to engage our diverse team of more than 800 employees in addressing local and regional societal issues through a "none of us is stronger than all of us" approach. Our goal is to maintain and grow a culture that is focused on working together to make the world a healthier, more united place.
#Trace3WIT - A community that encourages you to never let age, title, or gender stop you from sharing your ideas or solutions.
Trace3 Perks: Quick Reference:
Comprehensive medical, dental and vision plans for you and your dependents
401(k) Retirement Plan with Employer Match, 529 College Savings Plan, Health Savings Account, Life Insurance, and Long-Term Disability
Competitive Compensation
Total Wellness Program
Training and development programs
Stocked kitchen with snacks and beverages
Collaborative and cool office culture
Work-life balance and generous paid time off
Ready to discover the possibilities that live in technology? Come Join Us!
---
Who We're Looking For:
We're looking to add a Software Development Integration Engineer to the LAMP Development Team. You will be responsible for planning integrations between various Trace3 systems and our Customer Experience platform, focusing on the Life Cycle Management (LAMP) application. Additionally, you will integrate existing and/or new technologies, ensuring that all components work together seamlessly and efficiently.
What You'll Be Doing
Design, develop, and maintain integration flows using a variety of platforms, APIs, databases, protocols, cloud, and data formats
Collaborate and review code with other developers and business operations to ensure each integration maintains a consistent level of technical standards set by the team
Work directly with Business Systems Analysts and Chief Architect to ensure that the intersecting data and business processes in the Enterprise Applications ecosystem are efficient and high fidelity
Create documentation for the processes implemented or updated to ensure team members, prospects, or clients can correctly interpret it. May interact with clients or prospects to provide pre-sales support.
Ensure that integrations are designed and implemented as reusable building blocks to allow for efficient integrations of a similar type
Build and maintain key integrations that connect the application ecosystem with the product and cloud systems
Develop and support our ETL environment by recommending improvements, monitoring, and deploying quality and validation processes to ensure accuracy and integrity of data
Engage in logical and physical design of databases, table creation, script creation, views, procedures, packages, and other database objects
Design and implement processes and/or process improvements to help the development of technology solutions
Configure and test data workflows implemented using an integration framework
Your Skills and Experience (If Order of Importance):
5+ years' experience designing and developing integration solutions
Expertise in IP networking protocols and principles
Strong knowledge and experience with Linux OS environments
Knowledge and experience deploying software in virtual or cloud environments
Strong proficiency with data migration from non-native applications into a custom environment
Experience working with applications/tools to capture, manage and communicate business and technical requirements (i.e., Jira, Confluence, Azure DevOps, etc.)
Experience working with API management (i.e., Apigee, Postman, Swagger)
Experience working with cloud and web technologies. (i.e., AWS and Azure)
Experience with Java, JVM language, XML, and related technologies
Experience with SQL and relational databases
Bachelor's degree in Electrical Engineering or Computer Science (IT, Telecom) or other technical field or the equivalent level of experience
It's a Plus If You Have Any of These:
Experience with NetSuite integrations
Experience working with Databricks
***To all recruitment agencies: Trace3 does not accept unsolicited agency resumes/CVs. Please do not forward resumes/CVs to our careers email addresses, Trace3 employees or any other company location. Trace3 is not responsible for any fees related to unsolicited resumes/CVs.