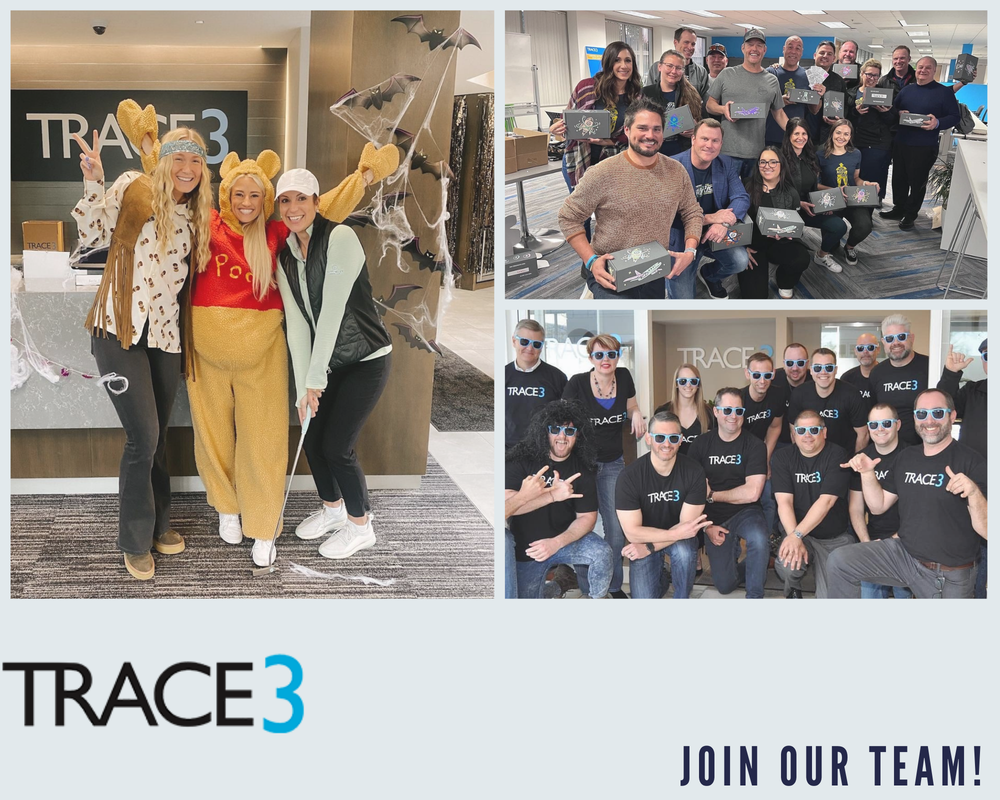 Who is Trace3?
Trace3 is a leading Transformative IT Authority, providing unique technology solutions and consulting services to our clients. Equipped with elite engineering and dynamic innovation, we empower IT executives and their organizations to achieve competitive advantage through a process of Integrate, Automate, Innovate.
Our culture at Trace3 embodies the spirit of a startup with the advantage of a scalable business. Employees can grow their career and have fun while doing it!
Trace3 is headquartered in Irvine, California. We employ more than 1,000 people all over the United States. Our major field office locations include Atlanta, Denver, Detroit, Indianapolis, Grand Rapids, Lexington, Los Angeles, Louisville, San Diego, San Francisco, and Scottsdale.
Ready to discover the possibilities that live in technology?
Ideal candidates will have qualities true to our core…
Street -Smart <thriving in dynamic times> You are flexible and resilient in a fast-changing environment. You know how your job affects the whole mission. You get the bigger picture. You understand why your job matters to Trace3 and how to help grow the business. You exercise sound business judgment in making high-quality decisions in a timely manner.
Entrepreneurial Spirit <capitalizing on opportunity> You think like an entrepreneur. You continuously innovate, come up with solutions and drive change. You solve problems for the betterment of the company. You look for new and productive ways to make an impact. You find better ways to sell or provide solutions and are good at it.
Juice <the "stuff" it takes to be a needle mover and a game changer> You are a well-respected achiever that gets things done and drives results. You "bring the weather" by demonstrating leadership, character, and passion. You lead without a title, empowering others and inspiring trust. You treat others with respect, admit mistakes, give credit where it's due and demonstrate transparency. You hug people in their trials, struggles, and failures, not just their success
About the Role:
The Service Delivery Manager (SDM) will be the cornerstone of ensuring customer and service success for Trace3's Managed Service security solutions. The ideal candidate will provide invaluable technical guidance, support, and input to manage operational excellence, build strong long-term relationships, and ensure overall service delivery for assigned engagements based on their industry experience with Deepwatch. This position will work closely with the technical teams, account teams, client teams, and vendor teams to monitor all activity regarding key Managed Services clients and ensure quality communications, deliverables, and overall accountability for best-in-class security posture.
What You'll Do:
Serve as Deepwatch subject matter exert and consult clients regarding scope, technical, and operational abilities and limitations specific to engagement environment
Ensure optimal client satisfaction throughout the entire life cycle of the Managed Services engagement
Manage, coordinate, and regularly communicate with assigned accounts, including leading weekly and monthly status reviews, and ad-hoc meetings/calls, to set expectations and negotiate priorities appropriately
Escalate to management and account teams appropriately, bringing topics of interest and concern to their attention before the customer's business is impacted
Facilitate relevant customer meetings, such as project meetings, change review meetings, service review meetings, and track resulting action items to completion
Establish and own business meeting cadence to monitor security service deliverables and improvement opportunities
Deliver high-quality service reports to assigned clients while continuously tracking client specific SLAs and KPIs
Showcase customer's ROI with Deepwatch through various mechanisms – one of which will include Executive Business Reviews
Effectively communicate with customers by managing and aligning expectations while holding people accountable
Influence improvements in onboarding process to ensure customer receives value quickly
Influence process and delivery improvements to ensure customer's success
Review and evaluate areas where Managed Services can reduce risk, improve efficiency, and save costs for our clients
Lead and present customer environment health checks and by conducting regular service reviews with the account team to ensure overall IT robustness
Identify gaps in service delivery, and work with the team to continuously improve to meet and exceed goals
Participate in the creation and delivery of new Agreements and onboarding of new clients
Assist customer regarding how to best utilize Deepwatch services
Create promoters and influencers amongst the customer base
Provide alternate solutions to complex security problems
Provide input to the forecasting of technical needs and solutions for budgeting
Operate at the highest levels of customer satisfaction Support Delivery Team and Deepwatch leadership as needed
Identify new opportunities in your account base to increase Trace3's overall value as a top solution partner
Qualifications & Interests:
6+ year of experience in a consultative or advisement role, or as a service delivery manager in cybersecurity operations
Technical understanding of the information security threat landscape (attack vectors and tools, best practices for securing systems and networks, etc.).
Technical knowledge of firewall, endpoint, network, threat intel, vulnerability management, and/or SIEM technology
Demonstrated track record of sound decision making, taking ownership, and delivering results
Desire to delight customers with a positive attitude, polish, and professionalism
Experience managing complex issues and coordinating solutions across multiple business lines
Experience utilizing mass communication/corporate notification systems and case management systems
Critical thinking and creative problem-solving skills
Experience working as part of a small, fast-paced, high capability team and the ability to manage workload even during times of stress or escalated activity
Natural inclination to demand rigor in everything you build, even while building fast and adapting plans as we grow
Curiosity and ability to learn new technologies, with the ability to figure out the best tools for a given problem
Continuous learning mindset, takes advantage of ideas, best practices, and solutions developed elsewhere and effectively translates
Strong conflict negotiation and problem-solving skills
Strong understanding of Emotional Intelligence
Expert oral and written communications skills, including a mastery of the English language both written and spoken to technical and non-technical audiences at customers
Preferred Experience, Skills and Knowledge
Bachelor's degree or equivalent work experience in Information Technology, Cybersecurity or related discipline
Experience with executive briefings
Experience in a SOC environment
Knowledge of MITRE ATT&CK framework and/or VERIS Framework
ITAR Compliance
This position will have access to customer data and as such is subject to International Traffic in Arms Regulations (ITAR). Upon application, candidates will be asked to confirm that they are a U.S. Person as defined by the following:
A citizen of the U.S.
A lawful permanent resident of the United States
A person admitted to the United States as a refugee
A person that has been granted asylum by the United States government
The intent of this requirement is not to verify employment eligibility overall, but to ensure compliance with import/export regulations.
The Perks:
Competitive Compensation
Comprehensive medical, dental and vision plans for you and your dependents
401(k) retirement plan, 529 college savings plan, life insurance, and AD&D
Training and development programs
Stocked kitchen with snacks and beverages
Collaborative and cool office culture
Work-life balance (where we don't encourage fun and relaxation time; we require it)
***To all recruitment agencies: Trace3 does not accept unsolicited agency resumes/CVs. Please do not forward resumes/CVs to our careers email addresses, Trace3 employees or any other company location. Trace3 is not responsible for any fees related to unsolicited resumes/CVs.