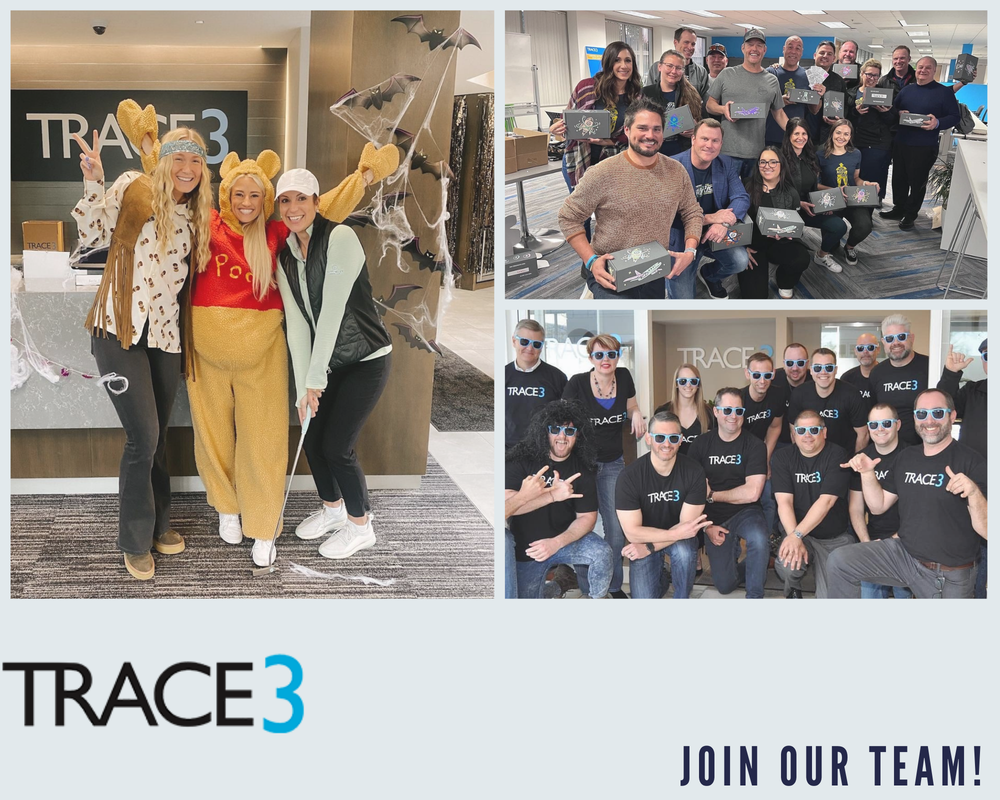 Who is Trace3?
Trace3 is a leading Transformative IT Authority, providing unique technology solutions and consulting services to our clients. Equipped with elite engineering and dynamic innovation, we empower IT executives and their organizations to achieve competitive advantage through a process of Integrate, Automate, Innovate.
Our culture at Trace3 embodies the spirit of a startup with the advantage of a scalable business. Employees can grow their career and have fun while doing it!
Trace3 is headquartered in Irvine, California. We employ more than 1,000 people all over the United States. Our major field office locations include Atlanta, Denver, Detroit, Indianapolis, Grand Rapids, Lexington, Los Angeles, Louisville, San Diego, San Francisco, and Scottsdale.
Ready to discover the possibilities that live in technology?
Come Join Us!
Street-Smart - Thriving in Dynamic Times
We are flexible and resilient in a fast-changing environment. We continuously innovate and drive constructive change while keeping a focus on the "big picture." We exercise sound business judgment in making high-quality decisions in a timely and cost-effective manner. We are highly creative and can dig deep within ourselves to find positive solutions to different problems.
Juice - The "Stuff" it takes to be a Needle Mover
We get things done and drive results. We lead without a title, empowering others through a can-do attitude. We look forward to the goal, mentally mapping out every checkpoint on the pathway to success, and visualizing what the final destination looks and feels like.
Teamwork - Humble, Hungry and Smart
We are humble individuals who understand how our job impacts the company's mission. We treat others with respect, admit mistakes, give credit where it's due and demonstrate transparency. We "bring the weather" by exhibiting positive leadership and solution-focused thinking. We hug people in their trials, struggles, and failures – not just their success. We appreciate the individuality of the people around us.
About the Role:
Role is located in Denver, Colorado
The Client Success Manager (CSM) is responsible for sales enablement for Trace3's services, successful project delivery, and profitable business management. This position will work closely with the Sales Teams to understand Client business objectives and how the projects support align to those objectives. The CSM will also collaborate with the Business Unit (BU) leaders in positioning the most appropriate services to achieve Client Success. In addition, CSM will coordinate with their peer CSM(s) and Sales Teams in other regions to manage the Services business as a "global" business as it relates to staffing, metrics and financials.
This position will act as an escalation point for any Project Delivery activities within their region and have key alignment to Sales Team service engagement managers or service directors. This position also provides a conduit for activities and communication between account teams and corporate support functions
What You'll Do:
Sales Collaboration and Support
New Sales Team resource onboarding

Provide Client Experience overview, services, and engagement model
Review support functions within Trace3 available to provide support

Support communication and reinforcement of new corporate processes to Sales Teams

Provide feedback from Sales Teams to Corporate for areas of process improvements
Provide continuous training where needed
Training and continuous education and messaging on new offerings or services that corporate teams can support

Lead support and direction for the Client Experience Alliance Team supporting the assigned Sales Team and/or Region

Work closely with the Engagement Manager and Services Sales Center (SSC) to provide input to scoping and pricing, review and offer input on Statements of Work (SOW).
Conduct regular pipeline meetings with Engagement Managers, Technical Account Managers and Account Reps to review sales pipeline and forecast to increase awareness of future staffing requirements and to drive the sale of offerings that will ensure region meets billable utilization requirements.
Collaborate with Sales on various options for engagement models that will meet Client demands as well as drive profitability and increase revenue for the internal Business Units.

Financial Management

Review and approve all SOW's, install requests, and Change Requests
Collaborate with BU Leaders on financial impacts or constraints, per feedback from Sales Teams or client knowledge, on demand for new service offerings
Work creatively with Sales Teams to support client demands and provide feedback to Services VP's, COO, and CRO if different go-to-market strategies are warranted.
Project Delivery Success
Responsible for the successful execution of all Project Delivery services engagements within their region(s). This includes:

Project Profitability
Customer Satisfaction
Meeting contractual obligations
Trace3 Delivery & Validate Success (DVS) methodology is followed
Compliance of PMO policies and procedures
Sales Team Satisfaction
Serve as an escalation point for Delivery resources when issues arise with engagements.
Where needed, visit customer site for either presales or delivery meetings.
May perform other duties as assigned by management.
Services Portfolio Development
Collaborate on the development of new service offerings with BU Leaders and the Center of Excellence.

Communicate trends and needs from Clients for offerings that can be standardized or leveraged across multiple Clients
Leverage the delivery "Lessons Learned" processes to ensure that appropriate changes are communicated to the Center of Excellence so that changes can be made to offerings and MVPs
Deliver communication and trainings to account teams on new service offerings.
Personnel Management
Provide coaching and mentorship to Project Managers in developing soft skills as well as growth in effectively leveraging the Deliver & Validate Success methodology.
Constantly support recruitment for new Project Management resources based upon services backlog and services sales forecasting to ensure ability to hire quickly when hiring is warranted.
Maintain a pipeline of qualified resources to work with customers.
REQUIRED SKILLS AND EXPERIENCE:
Bachelor's degree from an accredited university required.
A minimum of 10 years overall job experience in Information Technology with at least 5 years' experience in Consulting/Professional Services.
Strong leadership experience and ability to build collaborative working environments.
Team player mentality and experience building relationships with various stakeholders within an organization.
Able to adapt to the different and unique work style of Project Managers, engineers, consultants, sales people and executives.
Must have strong, demonstrated experience in the following areas:

Process – developing processes, helping resources learn to follow processes while still being able to innovate and be creative.
Sales – partnering with sales team to balance cost, time and quality in developing statements of work.
Financial acumen – understanding of gross profit, net income and other business financial terms and formulas.
Problem Solving – leverage relationships, customer skills, business acumen and creativity to solve problems.
Risk Management – Evaluating a project either in any phase (sales through delivery) to assess, prevent or manage risk.

Excellent leadership experience that includes:

Helping organizations grow and managing change.
Building relationships across organizations and utilizing those relationships to collaborate.
Empowering employees to be creative in solving problems while holding them accountable for financial and schedule constraints.
Have a creative, innovative and entrepreneurial attitude.
Ability to complete multiple tasks concurrently and deliver results under timelines and pressure.
The Perks:
Comprehensive medical, dental and vision plans for you and your dependents
401(k) Retirement Plan with Employer Match, 529 College Savings Plan, Health Savings Account, Life Insurance, and Long-Term Disability
Competitive Compensation
Total Wellness Program
Training and development programs
Stocked kitchen with snacks and beverages
Collaborative and cool office culture
Work-life balance and generous paid time off
***To all recruitment agencies: Trace3 does not accept unsolicited agency resumes/CVs. Please do not forward resumes/CVs to our careers email addresses, Trace3 employees or any other company location. Trace3 is not responsible for any fees related to unsolicited resumes/CVs.