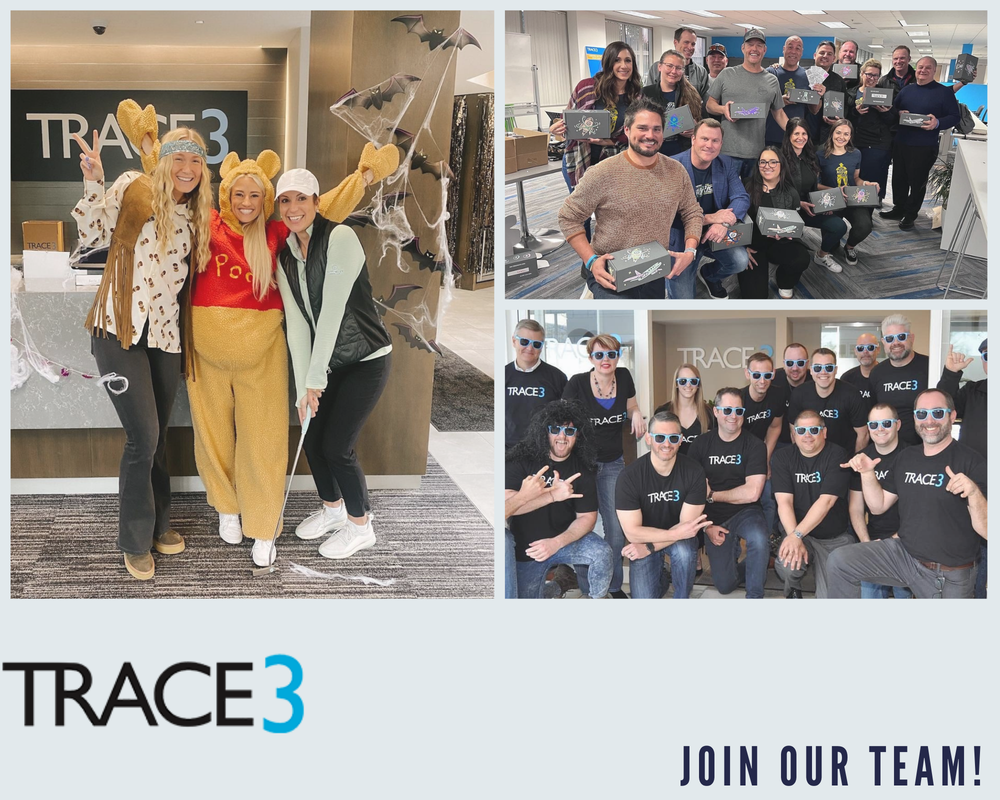 Who is Trace3?
Trace3 is a leading Transformative IT Authority, providing unique technology solutions and consulting services to our clients. Equipped with elite engineering and dynamic innovation, we empower IT executives and their organizations to achieve competitive advantage through a process of Integrate, Automate, Innovate.
Our culture at Trace3 embodies the spirit of a startup with the advantage of a scalable business. Employees can grow their career and have fun while doing it!
Trace3 is headquartered in Irvine, California. We employ more than 1,000 people all over the United States. Our major field office locations include Atlanta, Denver, Detroit, Indianapolis, Grand Rapids, Lexington, Los Angeles, Louisville, Texas, San Diego, San Francisco, and Scottsdale.
Ready to discover the possibilities that live in technology?
Come Join Us!
Street-Smart - Thriving in Dynamic Times
We are flexible and resilient in a fast-changing environment. We continuously innovate and drive constructive change while keeping a focus on the "big picture." We exercise sound business judgment in making high-quality decisions in a timely and cost-effective manner. We are highly creative and can dig deep within ourselves to find positive solutions to different problems.
Juice - The "Stuff" it takes to be a Needle Mover
We get things done and drive results. We lead without a title, empowering others through a can-do attitude. We look forward to the goal, mentally mapping out every checkpoint on the pathway to success, and visualizing what the final destination looks and feels like.
Teamwork - Humble, Hungry and Smart
We are humble individuals who understand how our job impacts the company's mission. We treat others with respect, admit mistakes, give credit where it's due and demonstrate transparency. We "bring the weather" by exhibiting positive leadership and solution-focused thinking. We hug people in their trials, struggles, and failures – not just their success. We appreciate the individuality of the people around us.
About the Role:
Trace3's Management Consulting (MC) team excels in helping our clients navigate through the complex world of business and technology with data-driven strategies that improve business performance and customer experience. We combine deep industry expertise, a consultative approach, and technical experience to partner with client leaders in designing transformational strategies so they can increase operating efficiency, exploit value creation opportunities, and achieve competitive advantage.
As a Data Strategy Manager, you'll work closely with clients to translate their priorities into innovative data and analytics strategies that support their business priorities and achieve desired outcomes. Our projects address a wide range of issues including data strategy, data governance, architecture, technology modernization, business transformation, and analytics adoption. You will be advising clients on how they can leverage emerging technologies such as cloud services, data science, blockchain, and other capabilities to build competitive advantage.
This is a high growth area with plenty of opportunities to enhance your skillset and build your career. You will demonstrate your leadership, strategy skills, and technical expertise to address high-priority C-suite issues through scalable and robust strategies that deliver data-driven insights and business value. Finally, if you have a genuine passion for constant learning and helping businesses achieve the full potential of their data, this role is for you. 
What You'll Do:
Meet with clients to understand their needs, perform analyses, formulate hypotheses, and develop actionable plans
Collaborate closely with client sponsors and other leaders on design of enterprise-wide platforms to accelerate rapid evaluation and implementation of analytical use cases
Work with functional and technical teams to identify high-priority use cases and design enterprise-wide data platforms
Develop enterprise data strategies and roadmaps with recommendations based on client needs, leading practices, and emerging vendor solutions
Design effective operating models that describe how clients can organize their resources and processes to execute their strategic roadmap
Lead design and execution of technical capability assessments, analyzing results, and presenting recommendations in an effective, logical manner to the client
Develop and present logical, creative business cases that achieve client support for Trace3 recommendations
Deliver thoughtful recommendations through compelling presentations and lead facilitated workshops to influence business decisions
Plan and manage scope, activities, resources, and budget for assigned projects
Develop effective working relationships directly with clients and Trace3 colleagues
Support Trace3 account teams in identifying opportunities and proposing solutions to clients
Qualifications & Interests:
Minimum of 8 years of related work experience, preferably at a consulting or technology company
Minimum Masters' degree, preferably in business, IT, Computer Science, Quantitative Methods, Data Science, or related field)
Minimum 2 years of experience in one or more industries (e.g., healthcare, financial services, technology, manufacturing, etc.)
Practical knowledge of modern data and analytics technologies in two or more of the following categories:
-Business Intelligence (Power BI, Tableau, Qlik)
-Machine Learning (R, Python, SAS, SPSS)
-Data Warehouse (SQL, Snowflake, Oracle, etc)
-Big Data (Spark, Hadoop, NoSQL Databases, Data Lakes, and related platforms)
-Cloud Platforms (Azure, AWS, Google Cloud)
Strong knowledge of relevant technology trends across the IT and digital landscape and how they can be applied to address real world problems and opportunities
Team oriented and collaborative working style, with clients and colleagues
Demonstrated ability to plan, organize, and manage other consultants to achieve project objectives and deliver successful projects
Highly organized, detail-oriented, excellent time management skills and able to effectively prioritize tasks in a fast-paced, high-volume, and evolving work environment
Excellent oral, written communication, and presentation skills with an ability to present technical issues to executives and non-technical audience
Strong proficiency in Microsoft Office (Word, PowerPoint, Outlook, Excel, Teams, etc.)
Experience in an Agile environment required
Ability to work additional hours and/or travel as needed (Up to 50% travel to various client sites)
The Perks:
Comprehensive medical, dental and vision plans for you and your dependents
401(k) Retirement Plan with Employer Match, 529 College Savings Plan, Health Savings Account, Life Insurance, and Long-Term Disability
Competitive Compensation
Training and development programs
Stocked kitchen with snacks and beverages
Collaborative and cool office culture
Work-life balance and generous paid time off
***To all recruitment agencies: Trace3 does not accept unsolicited agency resumes/CVs. Please do not forward resumes/CVs to our careers email addresses, Trace3 employees or any other company location. Trace3 is not responsible for any fees related to unsolicited resumes/CVs.