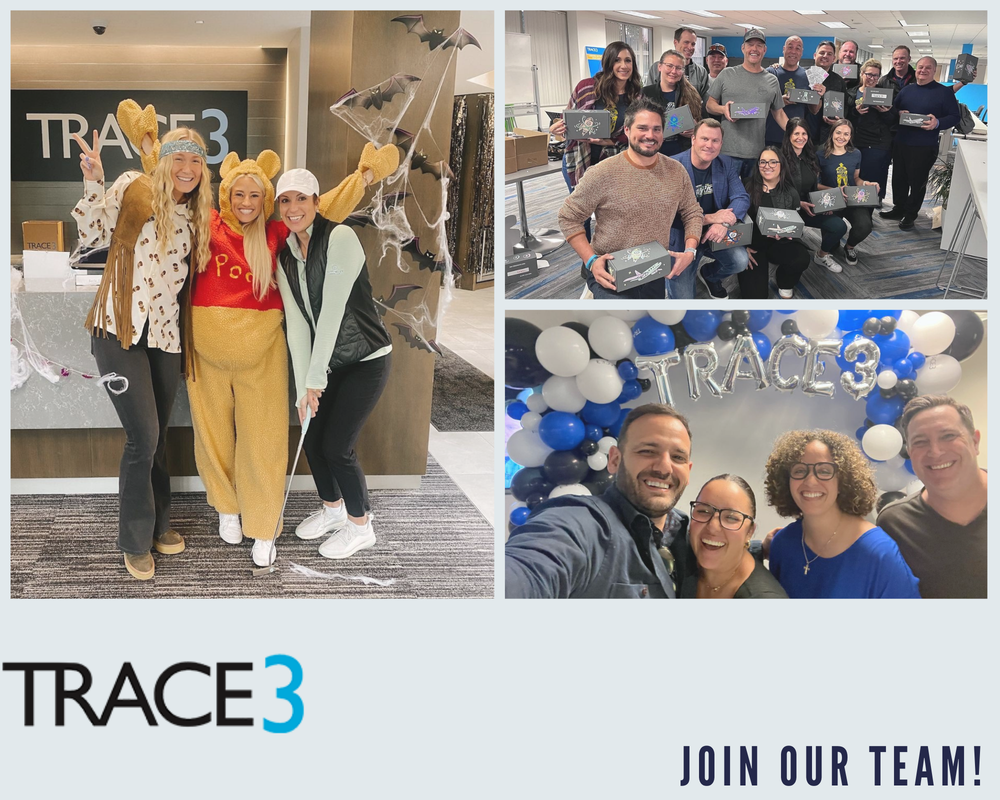 Who is Trace3?
Trace3 is a leading Transformative IT Authority, providing unique technology solutions and consulting services to our clients. Equipped with elite engineering and dynamic innovation, we empower IT executives and their organizations to achieve competitive advantage through a process of Integrate, Automate, Innovate.
Our culture at Trace3 embodies the spirit of a startup with the advantage of a scalable business. Employees can grow their career and have fun while doing it!
Trace3 is headquartered in Irvine, California. We employ more than 1,000 people all over the United States. Our major field office locations include Atlanta, Denver, Detroit, Indianapolis, Grand Rapids, Lexington, Los Angeles, Louisville, Texas, San Diego, San Francisco, and Scottsdale.
Ready to discover the possibilities that live in technology?
Come Join Us!
Street-Smart - Thriving in Dynamic Times
We are flexible and resilient in a fast-changing environment. We continuously innovate and drive constructive change while keeping a focus on the "big picture." We exercise sound business judgment in making high-quality decisions in a timely and cost-effective manner. We are highly creative and can dig deep within ourselves to find positive solutions to different problems.
Juice - The "Stuff" it takes to be a Needle Mover
We get things done and drive results. We lead without a title, empowering others through a can-do attitude. We look forward to the goal, mentally mapping out every checkpoint on the pathway to success, and visualizing what the final destination looks and feels like.
Teamwork - Humble, Hungry and Smart
We are humble individuals who understand how our job impacts the company's mission. We treat others with respect, admit mistakes, give credit where it's due and demonstrate transparency. We "bring the weather" by exhibiting positive leadership and solution-focused thinking. We hug people in their trials, struggles, and failures – not just their success. We appreciate the individuality of the people around us.
About the Role:
The System Engineer will maintain a high level of service quality and availability for customers by performing required system monitoring, periodic system maintenance routines and quickly restoring services in the event of an unexpected service disruption. The engineer is required to follow standard procedures based on best practices and maintain good communication links with the customer and other technical support organization inside and outside Trace3. The System Engineer may participate in internal or external projects being responsible to perform software installation, updates, configuration, and decommission based according to a set of provided instructions designed by system architects or senior system administrators.
What You'll Do:
Compute/Network/Storage support:
Provide admin services for customers.
Assist in the configuration of OS (Linux, IOS, WIN, etc).
Install minor release updates and OS Patches.
Assist to configure and deploy OS mayor releases and updates.
Assist in the configuration of monitoring routines and scripts.
Assist in the configuration of network and storage devices.
Maintain and monitor all patch releases documentation according to standards.
Maintain infrastructure backups current and assist to restore procedures.
perform audit on all security processes.
Keep up to date documentation of infrastructure configuration.
Assist in the installation and configuration of a virtual infrastructure (VM, SAN, VPNs, Etc.)
Have some level of proficiency with NetApp, Pure Storage, Brocade, Cisco UCS technologies.
Ability to use automation software such as Ansible, Chef, Puppet. Ansible Preferred
Assist performing operational readiness tests and complete operational checklist.
Create and maintain service desk documentation.
Complete monthly standard reports.
Follow company best practices and Standard Operational Procedures.
Support cross-functional teams to fulfill service requests.
System Operation
Assist in the installation and configuration of new software.
Assists in the operation of DEVOPS environment.
Perform tests on all new software.
Monitor everyday system operation & Performance.
Maintain all system backup current and perform restore procedures.
Perform periodic system health check and software maintenance.
Maintain high level of customer satisfaction.
Incident management
Troubleshoot and resolve infrastructure reported incidents.
Work with customer technical support engineers in the resolution of incidents.
Work with 3rd party vendor in the resolution of vendor escalated incidents.
Manage assigned ticket lifecycle.
Accepts, fulfills and Reports status via the ticketing system, shift reports, and email processes.
Communicate to stakeholders according to SLAs.
Assist performing Root Cause Analysis.
Performs and supports Severity 1 or crisis management situations.
Project Implementation
Reviews work orders proactively and as post-work quality assurance to ensure requests are handled accordingly to requests.
Complete assigned tasks according to plan and recommendations.
Actively participate during the service transition phase to perform knowledge transfer and documentation.
Manage reports and necessary documentation.
Others
Conduct inventory control. Compare received products to packing slip and reports discrepancies.
Ensure power tests and reports on all incoming products are conducted before being moved to the data center floor per practices.
Maintain high level customer satisfaction.
May perform other duties as assigned by supervisor.
Qualifications & Interests:
A minimum of 6 years experience in a technical or data center support role.The following certifications are highly desirable: Pure, Dell, NetApp, Brocade, Cisco MDS
Ability to work independently once provided direction.
Highly skilled and proficient in data center experience in installing/moving equipment and cabling on a large-scale basis.
Leadership skills in creating SOP's, templates, best practices and training.
Manage solutions to objectives and metrics.
Vast experience working with various networking hardware such as multiplexers, routers, and switches.
Proficient knowledge of common network protocols such as TCP/IP.
Proven experience with fault isolation and troubleshooting networks and computers including LAN, WAN and servers.
Familiarity with configuring networking and security equipment.
Familiarity with configuring Microsoft Windows, and various versions of Linux.
Experience with data communication issues.
Proficiency in Network troubleshooting tools (ping, traceroute, SNMP).
Ability to work independently and manage multiple priorities and interruptions.
Good understanding on Internet technologies (firewall/router/switch/VPN/DNS/Proxy).
Driven to independently research solutions when provided the desired result
The Perks:
Comprehensive medical, dental and vision plans for you and your dependents
401(k) Retirement Plan with Employer Match, 529 College Savings Plan, Health Savings Account, Life Insurance, and Long-Term Disability
Competitive Compensation
Training and development programs
Stocked kitchen with snacks and beverages
Collaborative and cool office culture
Work-life balance and generous paid time off
***To all recruitment agencies: Trace3 does not accept unsolicited agency resumes/CVs. Please do not forward resumes/CVs to our careers email addresses, Trace3 employees or any other company location. Trace3 is not responsible for any fees related to unsolicited resumes/CVs.