TripArc is a technology and procurement powerhouse that delivers innovative, best-in-class solutions to drive productivity and growth for its partner companies in the travel industry. We invest in our people so they can grow and innovate to further our mission, and help our clients succeed. If you're passionate about solving complex problems in a dynamic industry, join our team and take your career on the journey of a lifetime.

TripArc Core Values
• We Are a Team- We support each other, and do more than our share. We are respectful and inclusive. We communicate honestly to build trust.
• We Fail / Learn Fast- Failing fast is the best way to learn. Each interaction is a chance to improve. We embrace change.
• We Earn Trust- We build loyalty by fixing clients details. We think forward to anticipate client needs. We build loyalty by fixing client problems professionally.
• We Deal in Facts- We do the work to get real facts, not anecdote. Preparation, detail, accuracy and clarity are hallmarks of our culture.
• We Take Ownership- We are accountable for outcomes, not just hard work. We speak up with new ideas. We answer to the market, which measures us on profit.
• We Give Back- We are part of a work family and give to each other. We volunteer in our local community. We support global causes that can have big impact.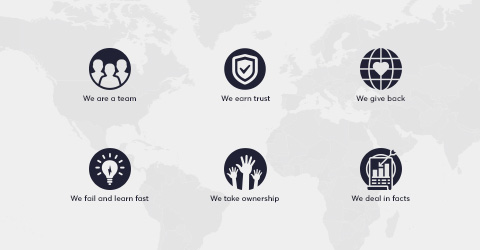 ---