---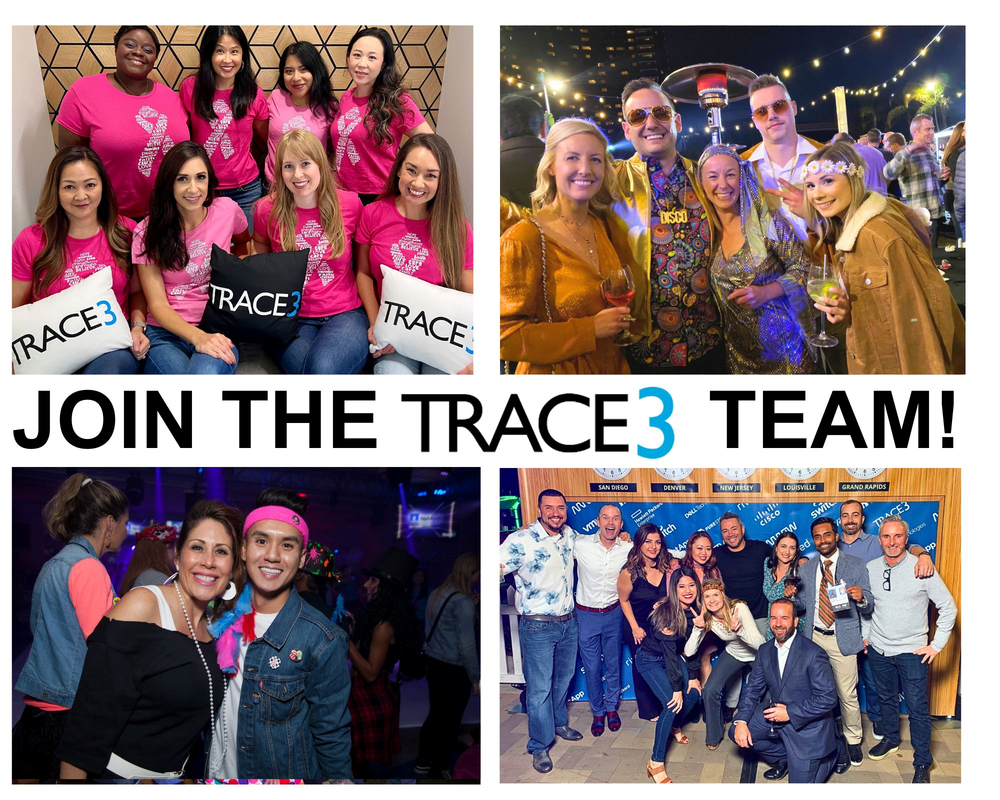 Who is Trace3?
Trace3 is a leading Transformative IT Authority, providing unique technology solutions and consulting services to our clients. Equipped with elite engineering and dynamic innovation, we empower IT executives and their organizations to achieve competitive advantage through a process of Integrate, Automate, Innovate.
Our culture at Trace3 embodies the spirit of a startup with the advantage of a scalable business. Employees can grow their career and have fun while doing it!
Trace3 is headquartered in Irvine, California. We employ more than 1,200 people all over the United States. Our major field office locations include Denver, Indianapolis, Grand Rapids, Lexington, Los Angeles, Louisville, Texas, San Francisco.
Ready to discover the possibilities that live in technology?
Come Join Us!
Street-Smart - Thriving in Dynamic Times
We are flexible and resilient in a fast-changing environment. We continuously innovate and drive constructive change while keeping a focus on the "big picture." We exercise sound business judgment in making high-quality decisions in a timely and cost-effective manner. We are highly creative and can dig deep within ourselves to find positive solutions to different problems.
Juice - The "Stuff" it takes to be a Needle Mover
We get things done and drive results. We lead without a title, empowering others through a can-do attitude. We look forward to the goal, mentally mapping out every checkpoint on the pathway to success, and visualizing what the final destination looks and feels like.
Teamwork - Humble, Hungry and Smart
We are humble individuals who understand how our job impacts the company's mission. We treat others with respect, admit mistakes, give credit where it's due and demonstrate transparency. We "bring the weather" by exhibiting positive leadership and solution-focused thinking. We hug people in their trials, struggles, and failures – not just their success. We appreciate the individuality of the people around us.
About the Role:
Trace3 is an innovation partner to more than 2000 companies and growing at a double-digit rate for over a decade. Trace3 Innovation collaborates with the industry, VC and start-up community, clients and internal Trace3 teams to identify, analyze and offer insights into emerging areas of technology such as private/public cloud, data intelligence, security, application/development and operations. Trace3 Innovation is also responsible for the product planning and product execution of proprietary solutions developed as an industry differentiator.
The Product Manager is responsible for product planning and execution throughout the Products Lifecycle, include gathering and prioritizing product and customer requirements, defining the product vision and roadmap while working closely with development, engineering, sales and marketing to ensure revenue and client satisfaction goals are met. The Product Manager is also responsible for ensuring that products support the company's overall strategy and goals.
What You'll Do:
Define the product strategy and roadmap – including the development of high-level plans that outline where the product is going and how it will get there. Provide a clear direction for the product team, aligning them on what needs to be done and when.
Deliver Market Requirements Document (MRD) and Product Requirements Document (PRD) with prioritized features and corresponding justification.
Gather and analyze client feedback to inform product development, ensuring our solutions continually add value and meet user needs.
Develop and support go-to-market strategies, in collaboration with Marketing and Sales teams, to maximize product reach, impact and revenue/
Work closely with the development team to guide product enhancements, ensuring alignment with the product vision and roadmap.
Run beta and pilot programs with early-stage products and samples.
Conduct competitive analysis and stay updated on industry trends to inform product strategy and maintain competitive advantage.
Monitor and report on product performance and usage, using data-driven insights to inform decision making and strategy.
Manage cross-functional collaboration and communication, ensuring all stakeholders are aligned and updated on product developments.
Qualifications & Interests:
A Bachelor's degree in a technical discipline or related degree
Minimum of ten years' experience as a Product Manager
Demonstrated success defining and launching excellent products.
Excellent written and verbal communication skills.
Technical background, with experience in IT enterprise vertical.
Excellent teamwork skills.
Proven ability to influence cross-functional teams without formal authority.
Must be able to travel 50% of the time.
Provide examples and at least one sample of an effective document delivered in the past.
The Perks:
Comprehensive medical, dental and vision plans for you and your dependents
401(k) Retirement Plan with Employer Match, 529 College Savings Plan, Health Savings Account, Life Insurance, and Long-Term Disability
Competitive Compensation
Training and development programs
Stocked kitchen with snacks and beverages
Collaborative and cool culture
Work-life balance and generous paid time off
***To all recruitment agencies: Trace3 does not accept unsolicited agency resumes/CVs. Please do not forward resumes/CVs to our careers email addresses, Trace3 employees or any other company location. Trace3 is not responsible for any fees related to unsolicited resumes/CVs.
Actual salary will be based on a variety of factors, including location, experience, skill set, performance, licensure and certification, and business needs. The range for this position in other geographic locations may differ. Certain positions may also be eligible for variable incentive compensation, such as bonuses or commissions, that is not included in the base salary.
Estimated Pay Range