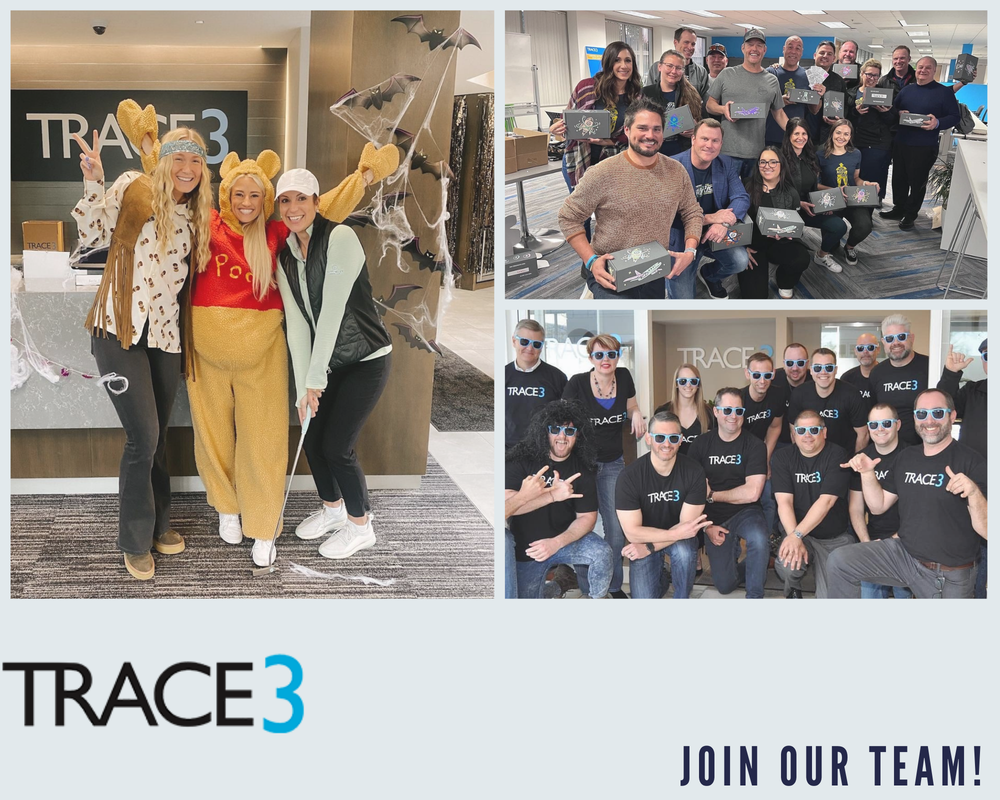 Who is Trace3?
Trace3 is a leading Transformative IT Authority, providing unique technology solutions and consulting services to our clients. Equipped with elite engineering and dynamic innovation, we empower IT executives and their organizations to achieve competitive advantage through a process of Integrate, Automate, Innovate.
Our culture at Trace3 embodies the spirit of a startup with the advantage of a scalable business. Employees can grow their career and have fun while doing it!
Trace3 is headquartered in Irvine, California. We employ more than 1,000 people all over the United States. Our major field office locations include Atlanta, Denver, Detroit, Indianapolis, Grand Rapids, Lexington, Los Angeles, Louisville, Texas, San Diego, San Francisco, and Scottsdale.
Ready to discover the possibilities that live in technology?
Come Join Us!
Street-Smart - Thriving in Dynamic Times
We are flexible and resilient in a fast-changing environment. We continuously innovate and drive constructive change while keeping a focus on the "big picture." We exercise sound business judgment in making high-quality decisions in a timely and cost-effective manner. We are highly creative and can dig deep within ourselves to find positive solutions to different problems.
Juice - The "Stuff" it takes to be a Needle Mover
We get things done and drive results. We lead without a title, empowering others through a can-do attitude. We look forward to the goal, mentally mapping out every checkpoint on the pathway to success, and visualizing what the final destination looks and feels like.
Teamwork - Humble, Hungry and Smart
We are humble individuals who understand how our job impacts the company's mission. We treat others with respect, admit mistakes, give credit where it's due and demonstrate transparency. We "bring the weather" by exhibiting positive leadership and solution-focused thinking. We hug people in their trials, struggles, and failures – not just their success. We appreciate the individuality of the people around us.
About the Role:
The Shipping Specialist will ensure the safe and time transit of products to and from Trace3 warehouses. In this role the Shipping Specialist will interface with sales, engineering, sales operations, and various other business units in Trace3. Daily duties include packaging, palatizing, quoting shipments, working with transportation vendors, utilizing Trace3 ERP systems fulfill shipments, troubleshooting troubled shipments, assisting with inbound return shipments, and relaying tracking information to appropriate parties.
What You'll Do:
Load merchandise from warehouse to trucks using a pallet jack and/or with a forklift
Validate sales order item fulfillments for accuracy
Provide shipping, handling, and insurance cost estimates
Track in Trace3 ERP systems physical shipments, tracking, and COGS and freight uplift.
Maintain stock of shipping supplies
Assist in other warehouse functions when time permits
Maintain a clean and well-organized warehouse
Stay current on all job requirements and methods to complete them properly
Operate a computer, handheld, RF scanner, forklift, pallet jack, and various ladders
Monitor work equipment and report on maintenance needs and/or malfunctions
Assist in maintaining the security and safety of the warehouse
Conduct and encourage all operations in a manner that promotes safety
Assist in other duties assigned
Qualifications & Interests:
High school diploma or equivalent is preferred
Proven experience in shipping or other warehouse position
Strong attention to detail and focus
Experience or license in handling forklifts, pallets jacks and other warehouse equipment
Experience with RF/Handheld devices
Solid understanding of health and safety regulations
Diligent and punctual
Excellent organizational skills
Ability to read and write in English
Ability to learn various proprietary software
Experience with Microsoft Office programs
The Perks:
Comprehensive medical, dental and vision plans for you and your dependents
401(k) Retirement Plan with Employer Match, 529 College Savings Plan, Health Savings Account, Life Insurance, and Long-Term Disability
Competitive Compensation
Training and development programs
Stocked kitchen with snacks and beverages
Collaborative and cool office culture
Work-life balance and generous paid time off
***To all recruitment agencies: Trace3 does not accept unsolicited agency resumes/CVs. Please do not forward resumes/CVs to our careers email addresses, Trace3 employees or any other company location. Trace3 is not responsible for any fees related to unsolicited resumes/CVs.