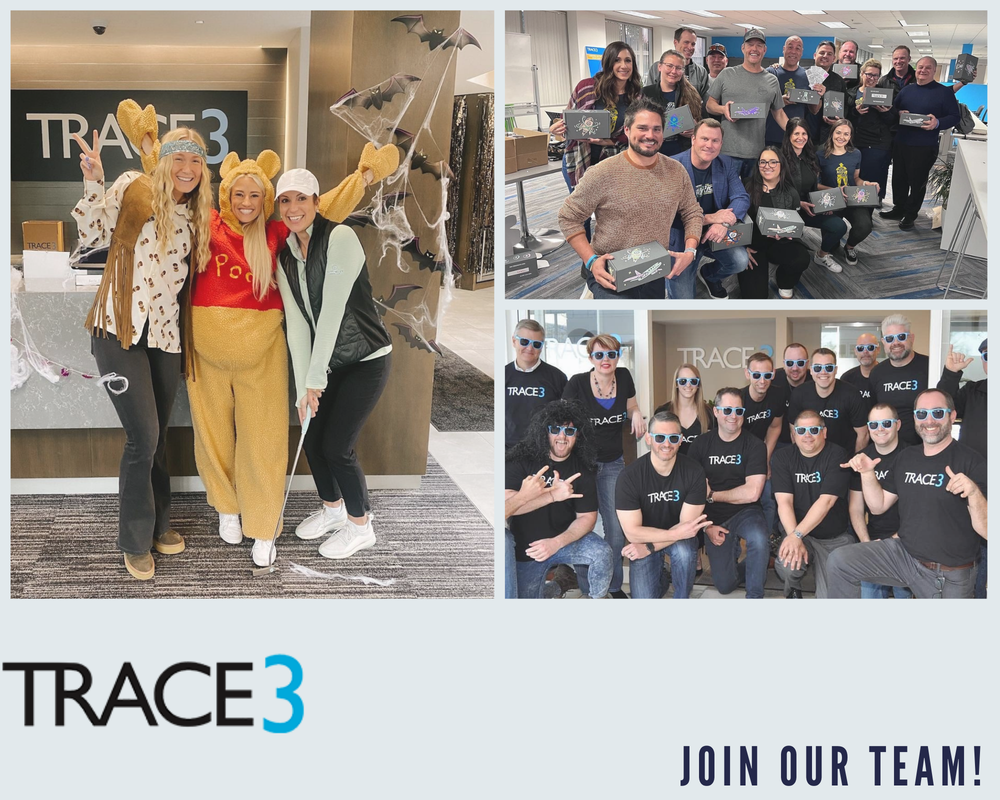 Who is Trace3?
Trace3 is a leading Transformative IT Authority, providing unique technology solutions and consulting services to our clients. Equipped with elite engineering and dynamic innovation, we empower IT executives and their organizations to achieve competitive advantage through a process of Integrate, Automate, Innovate.
Our culture at Trace3 embodies the spirit of a startup with the advantage of a scalable business. Employees can grow their career and have fun while doing it!
Trace3 is headquartered in Irvine, California. We employ more than 1,000 people all over the United States. Our major field office locations include Atlanta, Denver, Detroit, Indianapolis, Grand Rapids, Lexington, Los Angeles, Louisville, Texas, San Diego, San Francisco, and Scottsdale.
Ready to discover the possibilities that live in technology?
Come Join Us!
Street-Smart - Thriving in Dynamic Times
We are flexible and resilient in a fast-changing environment. We continuously innovate and drive constructive change while keeping a focus on the "big picture." We exercise sound business judgment in making high-quality decisions in a timely and cost-effective manner. We are highly creative and can dig deep within ourselves to find positive solutions to different problems.
Juice - The "Stuff" it takes to be a Needle Mover
We get things done and drive results. We lead without a title, empowering others through a can-do attitude. We look forward to the goal, mentally mapping out every checkpoint on the pathway to success and visualizing what the final destination looks and feels like.
Teamwork - Humble, Hungry and Smart
We are humble individuals who understand how our job impacts the company's mission. We treat others with respect, admit mistakes, give credit where it's due and demonstrate transparency. We "bring the weather" by exhibiting positive leadership and solution-focused thinking. We hug people in their trials, struggles, and failures – not just their success. We appreciate the individuality of the people around us.
This is a 12 week summer internship opportunity
About the Role:
Under the general direction of the Director, Business Operations, the Intern for Inside Sales will work cooperatively with inside sales reps, operation leads, outside sales representatives, engineers, and other members of the distribution team to grow existing customers and partnerships, while preserving sales operational excellence.
What You will Learn and Do:
Provide product and technical information in a timely manner.
Determine customer requirements reviewing pricing, availability or specifications as needed.
Accurately process customer transactions including orders, quotes, or returns.
Obtain information from vendors relating to shipment dates and expected date of delivery to provide accurate information regarding product items.
Increase sales and average order size by means of cross-selling, up-selling, add-on sales and offering promotional sale items.
Monitor scheduled shipment dates to ensure timely delivery and expedite as needed.
Contact customers following sales delivery to ensure ongoing customer satisfaction and resolve any complaint.
Remain current on consumer preferences, changes in local codes and product developments by attending sales meetings, vendor training and IT trade shows, or reading IT trade journals.
Setup and maintain customer files.
Register sales opportunities with partners.
Identify trends in customer satisfaction or dissatisfaction.
Report and identify trends in product and services sales.
Perform other duties as assigned.
Qualifications & Interests:
High school diploma or equivalent. Bachelor's degree in supply chain, finance or technical degree preferred.
Strong interpersonal communication skills for interacting with employees, vendors, clients.
Team player who is self-motivated, shows initiative, anticipates and prevents issues by executing advanced problem-solving skills.
The ideal candidate will possess the ability to quickly learn detailed information about products and services and clearly and effectively articulate Trace3's value to the customer.
Highly organized, detail-oriented, excellent time management skills and able to effectively. prioritize tasks in a fast-paced, high-volume, and evolving work environment.
Comfortable meeting deadlines in an entrepreneurial environment.
Strong ability to operate independently.
Proficient in Microsoft Office Excel, Word, PowerPoint, and Outlook
***To all recruitment agencies: Trace3 does not accept unsolicited agency resumes/CVs. Please do not forward resumes/CVs to our careers email addresses, Trace3 employees or any other company location. Trace3 is not responsible for any fees related to unsolicited resumes/CVs.