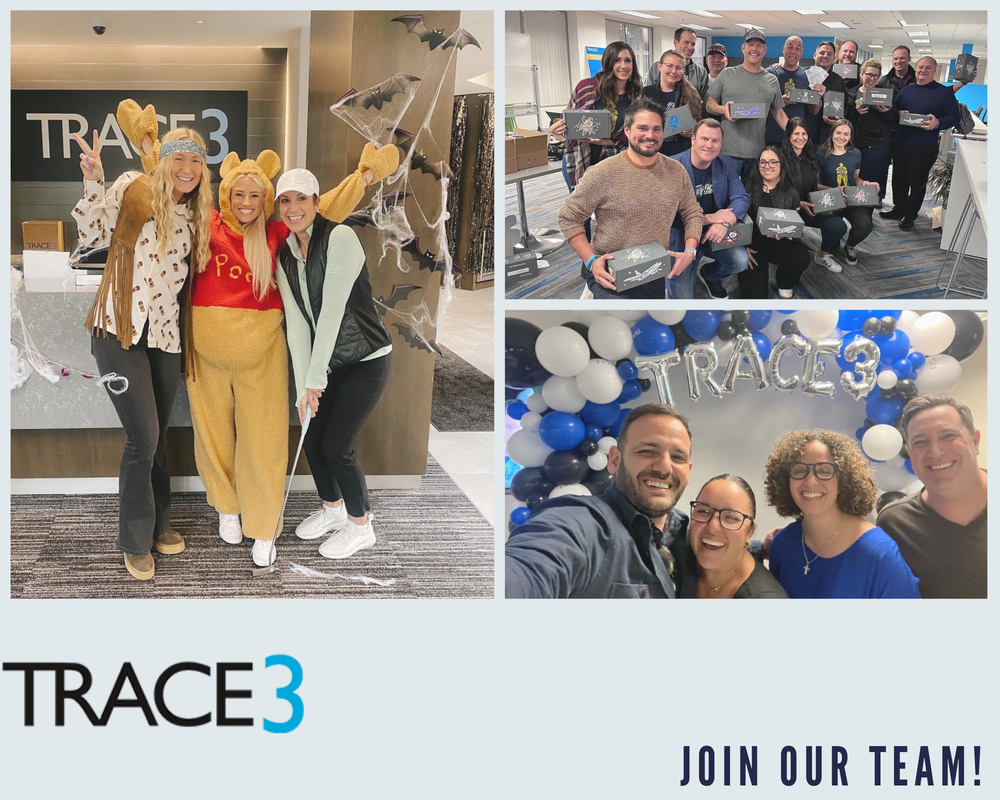 Who is Trace3?
Trace3 is a leading Transformative IT Authority, providing unique technology solutions and consulting services to our clients. Equipped with elite engineering and dynamic innovation, we empower IT executives and their organizations to achieve competitive advantage through a process of Integrate, Automate, Innovate.
Our culture at Trace3 embodies the spirit of a startup with the advantage of a scalable business. Employees can grow their career and have fun while doing it!
Trace3 is headquartered in Irvine, California. We employ more than 1,000 people all over the United States. Our major field office locations include Atlanta, Denver, Detroit, Indianapolis, Grand Rapids, Lexington, Los Angeles, Louisville, San Diego, San Francisco, and Scottsdale.
Ready to discover the possibilities that live in technology?
Ideal candidates will have qualities true to our core…
Street -Smart <thriving in dynamic times> You are flexible and resilient in a fast-changing environment. You know how your job affects the whole mission. You get the bigger picture. You understand why your job matters to Trace3 and how to help grow the business. You exercise sound business judgment in making high-quality decisions in a timely manner.
Entrepreneurial Spirit <capitalizing on opportunity> You think like an entrepreneur. You continuously innovate, come up with solutions and drive change. You solve problems for the betterment of the company. You look for new and productive ways to make an impact. You find better ways to sell or provide solutions and are good at it.
Juice <the "stuff" it takes to be a needle mover and a game changer> You are a well-respected achiever that gets things done and drives results. You "bring the weather" by demonstrating leadership, character, and passion. You lead without a title, empowering others and inspiring trust. You treat others with respect, admit mistakes, give credit where it's due and demonstrate transparency. You hug people in their trials, struggles, and failures, not just their success.
About the Role:
The Managed Services Engineer will provide technical expertise primarily in hands-on technical troubleshooting on server, storage, networking hardware, manage service requests, and incident management.
What You'll Do:
Review service requests, consult with users, and provide technical analysis and deliverables to client.
Responsible for answering phone and email requests in order to meet customer SLA (service level agreement).
Oversee the work being performed by third party providers, partners while ensuring that Company standards are being adhered to.
Implement "best practices", as communicated and agreed upon with the end customer.
Provide hands-on troubleshooting on server, storage, networking hardware.
Ensure hardware and software initiatives are implemented according to Company standards.
Attend or host remote sessions with the client and or vendor to understand the need and steps for remediation.
Access a wide variety of systems via the use of the BMC/IPMI/CLI.
Maintain current knowledge of industry data center trends and technologies.
Assist the NOC (Network Operations Center) Solutions team with compiling best practices.
Provide "as-built" documentation per the agreement or ticket.
Assist management in documenting new system details and fixes pertaining to servers, storage, and networking for troubleshooting and usage.
Configure equipment such as firewall, switches, routers, servers, and storage hardware platform.
Install equipment including racks, servers, and networking gear into customer data centers or communication rooms.
Provide documentation for asset management in the data center/warehouse including maintaining accurate records of all installed equipment and disposition of obsolete equipment.
Qualifications & Interests:
Associates Degree or higher preferred (or equivalent level of education/work experience).
A minimum of 3-5 years working experience with hands-on troubleshooting on server, storage, networking hardware
CompTIA and Linux Certifications or equivalent desired.
Exceptional attention to detail, strong organizational and troubleshooting skills.
Experience with online productivity tools (i.e. ConnectWise Manage, WebEx, ServiceNow, Slack).
Must have initiative and motivation to learn.
Must be customer centric and can work under aggressive timelines.
Ability to multi-task while adhering to Company and customer standards.
The Perks:
Competitive Compensation
Comprehensive medical, dental and vision plans for you and your dependents
401(k) retirement plan, 529 college savings plan, life insurance, and AD&D
Training and development programs
Stocked kitchen with snacks and beverages
Collaborative and cool office culture
Work-life balance (where we don't encourage fun and relaxation time; we require it)
***To all recruitment agencies: Trace3 does not accept unsolicited agency resumes/CVs. Please do not forward resumes/CVs to our careers email addresses, Trace3 employees or any other company location. Trace3 is not responsible for any fees related to unsolicited resumes/CVs.