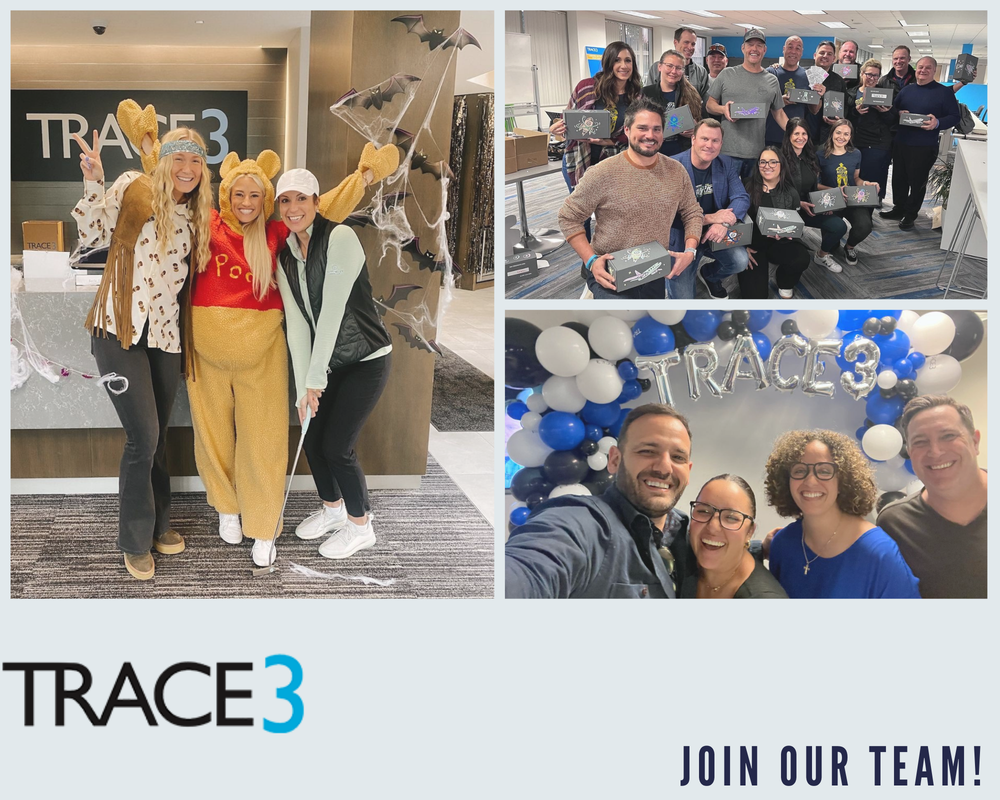 Who is Trace3?
Trace3 is a leading Transformative IT Authority, providing unique technology solutions and consulting services to our clients. Equipped with elite engineering and dynamic innovation, we empower IT executives and their organizations to achieve competitive advantage through a process of Integrate, Automate, Innovate.
Our culture at Trace3 embodies the spirit of a startup with the advantage of a scalable business. Employees can grow their career and have fun while doing it!
Trace3 is headquartered in Irvine, California. We employ more than 1,000 people all over the United States. Our major field office locations include Atlanta, Denver, Detroit, Indianapolis, Grand Rapids, Lexington, Los Angeles, Louisville, San Diego, San Francisco, and Scottsdale.
Ready to discover the possibilities that live in technology?
Ideal candidates will have qualities true to our core…
Street -Smart <thriving in dynamic times> You are flexible and resilient in a fast-changing environment. You know how your job affects the whole mission. You get the bigger picture. You understand why your job matters to Trace3 and how to help grow the business. You exercise sound business judgment in making high-quality decisions in a timely manner.
Entrepreneurial Spirit <capitalizing on opportunity> You think like an entrepreneur. You continuously innovate, come up with solutions and drive change. You solve problems for the betterment of the company. You look for new and productive ways to make an impact. You find better ways to sell or provide solutions and are good at it.
Juice <the "stuff" it takes to be a needle mover and a game changer> You are a well-respected achiever that gets things done and drives results. You "bring the weather" by demonstrating leadership, character, and passion. You lead without a title, empowering others and inspiring trust. You treat others with respect, admit mistakes, give credit where it's due and demonstrate transparency. You hug people in their trials, struggles, and failures, not just their success
About the Role:
The Financial Analyst (FA) will be responsible to help scale the financial planning, reporting, and analytic capabilities. The FA will be a critical contributor to the finance team and the Company's growth journey. This position will work closely with members of the finance and accounting teams to develop insightful reporting and financial models to support business decision-making.
What You'll Do:
Reporting:

Work closely with the accounting team to ensure a timely and accurate financial close, and support the monthly consolidated reporting process.
Improve and maintain an insightful reporting package, inclusive of operational KPIs and financial metrics.
Maintain detailed employee planning models and leading indicator reports.
Build and maintain Power BI reports.
Business Analysis:

Collaborate with members of the finance and accounting teams to understand the business drivers behind key results.
Prepare detailed, flexible, and digestible financial models and outputs to support decision-making.
Complete ad hoc projects and requests in a timely manner.
Planning / Forecasting:

Support the quarterly/annual strategic planning processes with business partners.
Help build and maintain the operating model and manage inputs to the rolling short-term and long-term forecasts.
Qualifications & Interests:
Bachelor's Degree in finance or related field required.
A minimum of 2 years of experience in an FP&A role.
Strong financial modeling and excel skills.
Comfortable manipulating and maintaining large data sets.
Proven ability and desire to improve upon processes and bring new ideas.
Excellent verbal and written communication skills; proficient in PowerPoint.
Demonstrated self-starter who is analytical and has impeccable attention to detail.
Ability to adapt and operate effectively in a fast-paced and growing environment.
Acts with integrity and professionalism, with the ability to handle confidential information.
Maintains a positive and flexible attitude.
Basic understanding of accounting principles.
The Perks:
Competitive Compensation
Comprehensive medical, dental and vision plans for you and your dependents
401(k) retirement plan, 529 college savings plan, life insurance, and AD&D
Training and development programs
Stocked kitchen with snacks and beverages
Collaborative and cool office culture
Work-life balance (where we don't encourage fun and relaxation time; we require it)
***To all recruitment agencies: Trace3 does not accept unsolicited agency resumes/CVs. Please do not forward resumes/CVs to our careers email addresses, Trace3 employees or any other company location. Trace3 is not responsible for any fees related to unsolicited resumes/CVs.