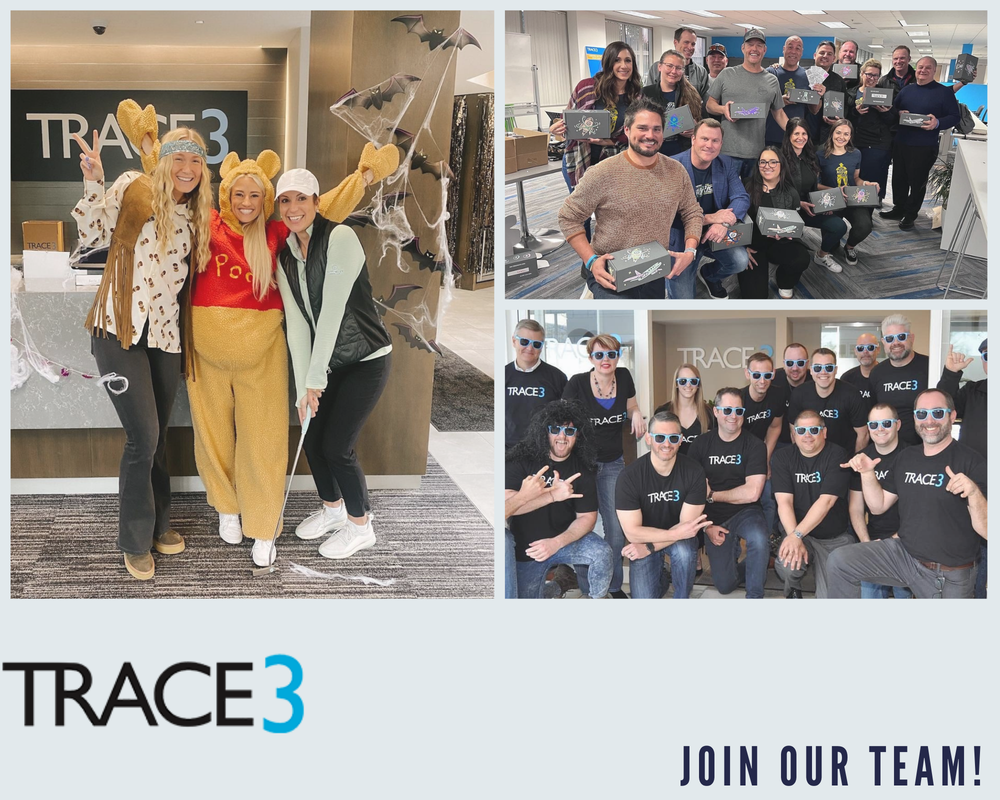 Who is Trace3?
Trace3 is a leading Transformative IT Authority, providing unique technology solutions and consulting services to our clients. Equipped with elite engineering and dynamic innovation, we empower IT executives and their organizations to achieve competitive advantage through a process of Integrate, Automate, Innovate.
Our culture at Trace3 embodies the spirit of a startup with the advantage of a scalable business. Employees can grow their career and have fun while doing it!
Trace3 is headquartered in Irvine, California. We employ more than 1,000 people all over the United States. Our major field office locations include Atlanta, Denver, Detroit, Indianapolis, Grand Rapids, Lexington, Los Angeles, Louisville, San Diego, San Francisco, and Scottsdale.
Ready to discover the possibilities that live in technology?
Come Join Us!
Street-Smart - Thriving in Dynamic Times
We are flexible and resilient in a fast-changing environment. We continuously innovate and drive constructive change while keeping a focus on the "big picture." We exercise sound business judgment in making high-quality decisions in a timely and cost-effective manner. We are highly creative and can dig deep within ourselves to find positive solutions to different problems.
Juice - The "Stuff" it takes to be a Needle Mover
We get things done and drive results. We lead without a title, empowering others through a can-do attitude. We look forward to the goal, mentally mapping out every checkpoint on the pathway to success, and visualizing what the final destination looks and feels like.
Teamwork - Humble, Hungry and Smart
We are humble individuals who understand how our job impacts the company's mission. We treat others with respect, admit mistakes, give credit where it's due and demonstrate transparency. We "bring the weather" by exhibiting positive leadership and solution-focused thinking. We hug people in their trials, struggles, and failures – not just their success. We appreciate the individuality of the people around us.
About the Role:
Reporting to the Technical Delivery Manager, the Sr. Managed Services Engineer will implement, troubleshoot, analyze and maintain the IT infrastructure of client environments. Identifies, researches, and resolves technical problems. Maintains documentation of client networks and systems. Knowledgeable of current concepts, best practices, and procedures aligned to technical expertise. Relies on experience and judgment to plan and accomplish goals. Performs a variety of complicated tasks and provides support for escalated trouble tickets. Will be tightly integrated with the entire Managed Services team and be a contributing member to all solutions delivered by Managed Services and NOC Solutions.
What You'll Do:
Microsoft365 administration, migrations and troubleshooting
Microsoft Exchange administration, migrations and troubleshooting
Support and troubleshoot cloud-hosted environments: Azure and AWS
Server Operating Systems support and troubleshooting
Provide Level 3 and Level 4 support for problems identified with systems and networks.
Will act as an escalation for Level 2 and Level 3 Managed Services team members to deliver technical outcomes via Service Requests or Incident Response
Create and maintain comprehensive documentation as it relates to server and network topology, equipment, and configuration.
Participate in after-hours migrations, upgrades, troubleshooting, and/or on-call availability as needed to support client needs
Identify, diagnose, and resolve client problems in a timely fashion.
Assist with reporting and recommendations for Managed Services clients
Interface with third party vendors as liaison between client and vendor
Provide post implementation support for Advanced Technical Services teams
Build client relationships through exceptional customer service
Stay current with OEM system updates and developments
Maintain specialization roles as needed by TRACE3.
Qualifications & Interests:
Microsoft AZ - 104 Certification required
Bachelor's Degree or higher preferred (or equivalent level of education/work experience supporting Commercial and Enterprise class infrastructure)
Holds current certification(s) to support area(s) of expertise
Actively pursues professional development opportunities
Knowledge and familiarity with multiple TRACE3 OEM Partners – Microsoft, Cisco and VMware
Strong understanding of how clients use technology to meet business objectives
Shows initiative and acts independently to resolve problems.
Demonstrated ability to achieve successful outcomes in handling critical issues and work with various clients and management levels.
Demonstrated ability to manage multiple priorities and follow through to resolution.
Exceptional attention to detail and strong organizational skills
Demonstrated ability to effectively communicate by phone or in person.
Demonstrated written communication skills.
The Perks:
Competitive Compensation
Comprehensive medical, dental and vision plans for you and your dependents
401(k) retirement plan, 529 college savings plan, life insurance, and AD&D
Work with the Best and Brightest
Grow your brain through training and development programs
Stocked kitchen with snacks and beverages
Collaborative and cool office culture
Work-life balance (where we don't encourage fun and relaxation time; we actually require it)
Unlimited vacation to relax, restore and refresh
***To all recruitment agencies: Trace3 does not accept unsolicited agency resumes/CVs. Please do not forward resumes/CVs to our careers email addresses, Trace3 employees or any other company location. Trace3 is not responsible for any fees related to unsolicited resumes/CVs.