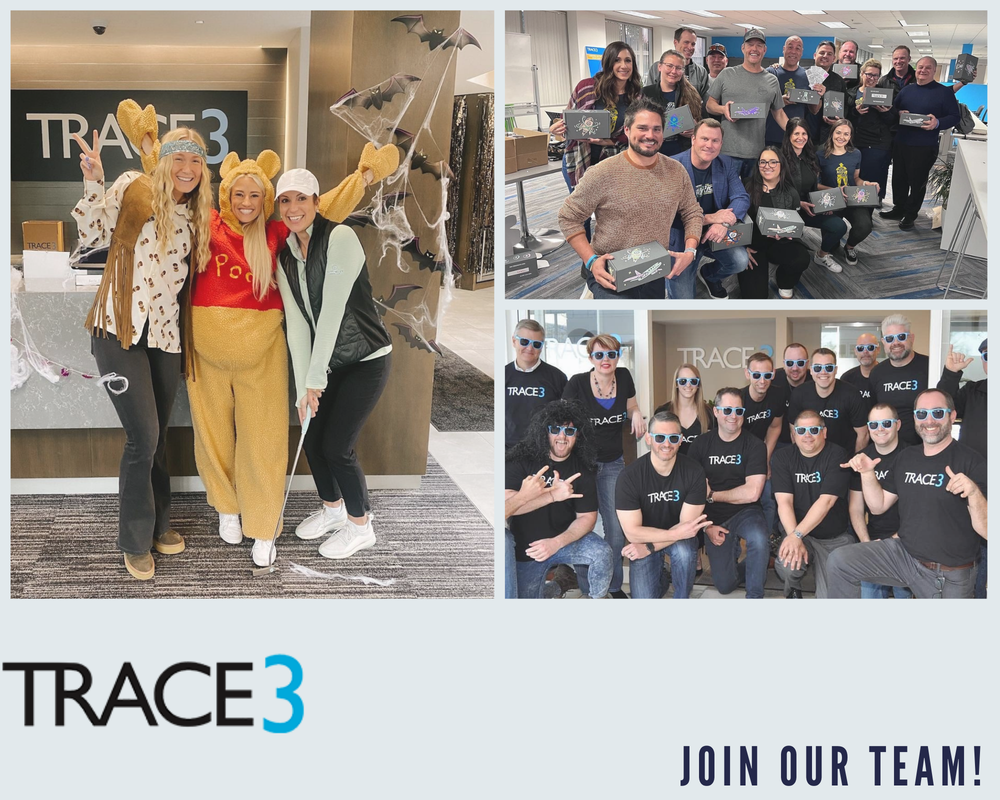 Who is Trace3?
Trace3 is a leading Transformative IT Authority, providing unique technology solutions and consulting services to our clients. Equipped with elite engineering and dynamic innovation, we empower IT executives and their organizations to achieve competitive advantage through a process of Integrate, Automate, Innovate.
Our culture at Trace3 embodies the spirit of a startup with the advantage of a scalable business. Employees can grow their career and have fun while doing it!
Trace3 is headquartered in Irvine, California. We employ more than 850 people all over the United States. Our major field office locations include Atlanta, Denver, Detroit, Indianapolis, Grand Rapids, Lexington, Los Angeles, Louisville, San Diego, San Francisco, and Scottsdale.
Ready to discover the possibilities that live in technology?
Come Join Us!
Street-Smart - Thriving in Dynamic Times
We are flexible and resilient in a fast-changing environment. We continuously innovate and drive constructive change while keeping a focus on the "big picture." We exercise sound business judgment in making high-quality decisions in a timely and cost-effective manner. We are highly creative and can dig deep within ourselves to find positive solutions to different problems.
Juice - The "Stuff" it takes to be a Needle Mover
We get things done and drive results. We lead without a title, empowering others through a can-do attitude. We look forward to the goal, mentally mapping out every checkpoint on the pathway to success, and visualizing what the final destination looks and feels like.
Teamwork - Humble, Hungry and Smart
We are humble individuals who understand how our job impacts the company's mission. We treat others with respect, admit mistakes, give credit where it's due and demonstrate transparency. We "bring the weather" by exhibiting positive leadership and solution-focused thinking. We hug people in their trials, struggles, and failures – not just their success. We appreciate the individuality of the people around us.
About the Role:
The Sr. Regional Engineer will primarily be responsible for executing the technical delivery of Microsoft based solutions and affectively communicating the status toward documented project plans. The Sr. Regional Engineer will serve as a subject matter expert with advanced skills in their respective technology discipline. In this role, the Sr. Regional Engineer may be asked to set the technical direction for the sales cycle and provide solution design support for multiple locations. The Sr. Regional Engineer will be providing Advanced Services delivery mostly through remote capabilities (i.e. WebEx). In certain circumstances, onsite meetings an actual delivery at the customer location may be required. The individual will have direct interaction with account managers, inside sales engineers (ISE), Engagement Architects (EA), Project Managers (PM) and Solution Architects (SA). Having to manage multiple engagements with multiple clients will require this individual to have excellent time management skills. The Sr. Regional Engineer will have to constantly prioritize the needs of the customers timelines to deliver comprehensive solutions in a timely manner. The Senior Regional Engineer will also be asked to perform ad-hoc technical services for projects smaller in size and also step in to guide and assist customers when they are experiencing priority issues (Outages, Cyber Security Incidents, etc.).
What You'll Do:
Reports directly to the VP of Engineering: Central
Troubleshooting and administering Windows Servers, On-Prem Active Directory, Exchange, and SharePoint.
Perform migrations from on-prem to O365 environments (Exchange, AD, OneDrive, SharePoint, etc.)
Assist clients with Azure deployments and migrations
Work with Advanced Technology Group Leads to ensure consistent delivery documentation consistent solution proposals including design and delivery methods
Attend customer facing project kickoff meetings and build project execution plans
Prepares for and has a plan for succession planning within technology area
Maintain a billable utilization rate agreed upon by Regional Engineer and VP of Engineering
Qualifications & Interests:
Minimum 5 years of direct experience in designing in-depth technology solutions with consistent positive customer feedback
Must create and maintain an excellent working relationship with the Region's Engineering Team and Business Unit resources.
Develops positive relationships with customers, OEM partners, account managers and pre-sales in support of driving sales objectives
Interface with Practices to stay current on latest solutions, marketing materials and regional specializations
Strong oral and written communication skills
Strong technical acumen, with advanced training and certification in the current technology practice
Ability to manage multiple engagements for multiple customers simultaneously
Ability to translate a high-level design to a low-level design and project plan
Ability to work with other Engagement Architects and Advanced Technology Group Leads for multiple discipline opportunities
Commitment to continued education to be aware of updates to appropriate technology areas
MCSE (or similar) Certification
Associates Degree or higher preferred (or equivalent level of education/work experience)
The Perks:
Comprehensive medical, dental and vision plans for you and your dependents
401(k) Retirement Plan with Employer Match, 529 College Savings Plan, Health Savings Account, Life Insurance, and Long-Term Disability
Competitive Compensation
Training and development programs
Stocked kitchen with snacks and beverages
Collaborative and cool office culture
Work-life balance and generous paid time off
***To all recruitment agencies: Trace3 does not accept unsolicited agency resumes/CVs. Please do not forward resumes/CVs to our careers email addresses, Trace3 employees or any other company location. Trace3 is not responsible for any fees related to unsolicited resumes/CVs.