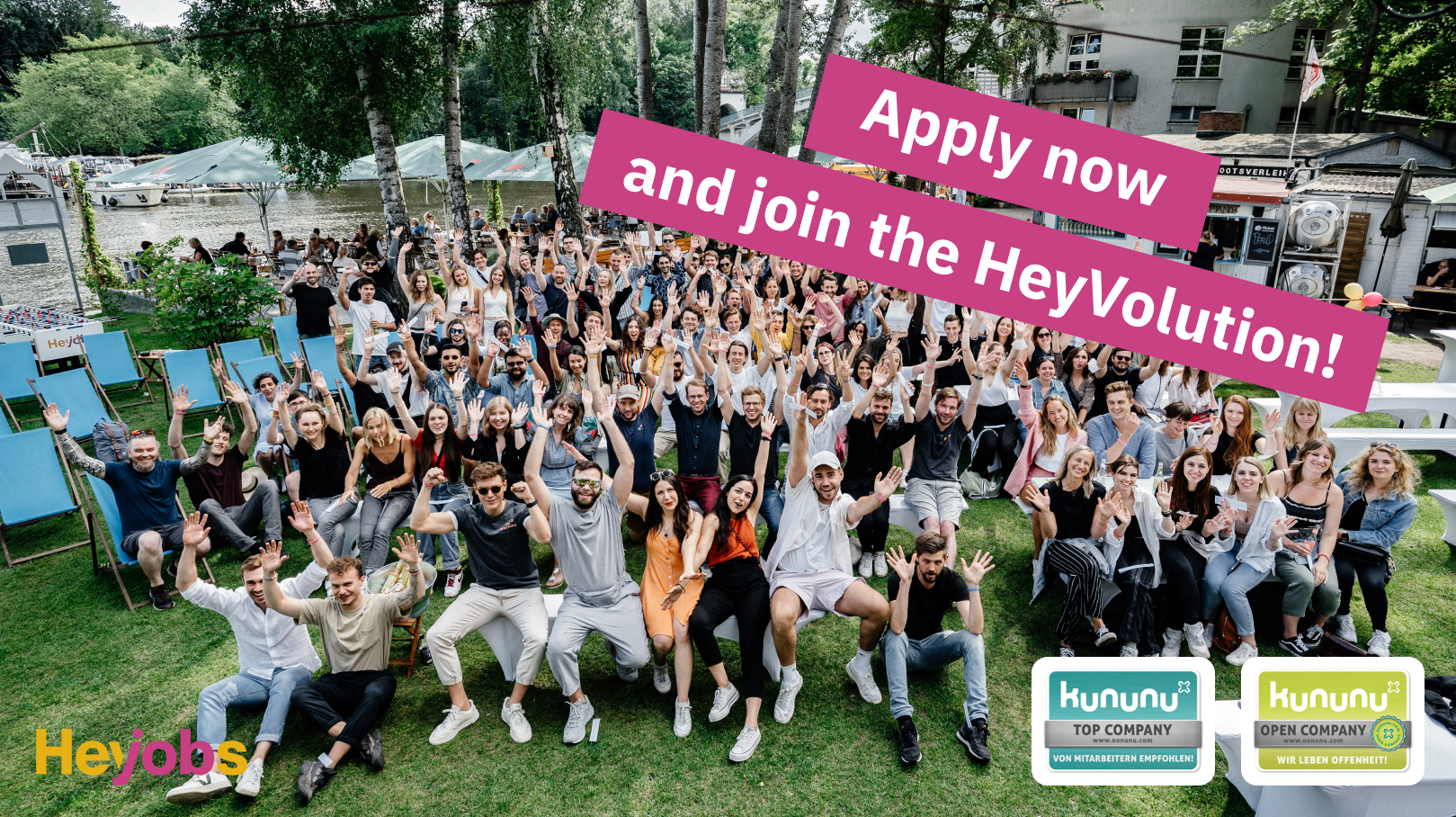 Help us prevent the coming labor shortage disaster of essential workers in Europe so that –
everyone can get medical care by nurses 🚑, everyone's trains arrive punctually 🚋, everyone's parents can get human elderly care 👵.
In 2021, we powered 1% of Germany's hires through HeyJobs.
Over 3'000 employers win their talent through our machine learning algorithms.
We positively impacted the lives of 100'000 essential workers by finding better jobs on our career platform. Learn more here.
With over €50M funding and a team of 300+, we are expanding to revolutionize the European job market (from Berlin, Cologne and Vienna).
Join the HeyVolution. 💛
An impactful role: You are fully responsible for managing our performance marketing activities across all online channels with the objective to accelerate the growth of our talent platform and to retain our network of job seekers. Our talent platform connects job seekers with matching opportunities at our employers ensuring a reliable performance (measured by hires made by our customers).
Since our performance marketing relies heavily on automation, you are not only responsible for the numbers and our performance marketing activities, but also to drive the further development of our build & bought marketing tech stack together with our strong cross-functional teams.
You are a role model for our value focused company and leadership culture - Teamwork, Drive & Entrepreneurship is what you personify everyday.
🎯 How you can contribute to HeyJobs
Develop and implement a world class performance marketing strategy to bring our talent platform to market leadership & to ensure a reliable and predictable recruiting performance for our B2B customers

Translate that performance marketing strategy into actionable projects and roadmaps together with 5 cross-functional teams (25 people) for SEO, Social Marketing, Search, Affiliate and Marketing Operations

Implement and monitor performance marketing projects, plan and allocate resources accordingly. Analyze campaign performance and report overall marketing performance together with the CTMO.

Participate in the quarterly and annual planning process of the company as part of the HeyJobs leadership
🤝 What sets you up for success
Experience in leading a large scale, tech driven performance marketing team (marketplace experience is a plus). You have the

ability to attract and retain great talents

Deep understanding of the modern performance marketing stack (especially Social, Display and Search) and

a very strong channel knowledge and experience in managing multi-million € monthly budgets

Highly analytical and creative nature, with an ability to roll up sleeves and go deep through data to optimize our marketing with a strong performance mindset

Strong stakeholder management skills, working closely with the product & tech departments

You speak and write German and English fluently
❤️‍🔥 What you will love about us
People & Values:

We treat people in the way people should be treated,

we bring out the best in everyone, we put our people first. Learn more

here

.

Growing individually and as a team:

7 step career framework, bi-yearly performance reviews, 3 days of yearly educational leave & 500€ budget*, HeyJobs Leadership Training Programs, in-house German classes

Work-Life Balance:

28 holidays*, plus 1 additional day p.a., minimum 3 weeks work from anywhere per year and a 1-month paid sabbatical* every 3 years, flexible work hours

Societal Impact Employee Groups:

Follow your passion with HeySustainability, HeyVoices, HeySisterhood, HeyPeace or found your own circle

Wellbeing:

6 free Mental Health sessions per year via Nilo.Health to enable every HeyJobber to connect with the right mental health solution for any mental health challenges they are facing, free seasonal flu (and COVID) vaccination

Benefits:

€50 monthly allowance* with Ben Card to spend on something you actually need and want. HeyJobs discounts for sustainable products and services via FutureBens & more

Events & Feel Good initiatives:

Fresh fruit, great drinks,

monthly team lunch, 3 company-wide events per year, quarterly team events & plenty of feel good initiatives

Relocation Package:

We will support your relocation financially and with practical organization to make you feel at home soon

Great offices with high quality equipment:

MacBook / ThinkPad, Sennheiser Headset, screen for home office + additional hardware; HQ Berlin (Kreuzberg, Paul-Lincke-Ufer); HeyHub Cologne (Design Offices Gereon), HeyHub Vienna (centrally located in 1020 Vienna) all with standing desks, hybrid set-up meeting rooms & AC - good public transport connections & great lunch options
At HeyJobs diversity and inclusion is key to creating a culture attracting the best talent and ultimately leading to achieving our vision. Together, we are 30 different nations, 45% women and 50% female leaders.
Fostering diversity and inclusion starts with hiring – therefore, we do not discriminate on the basis of religion, national origin, gender-identity, sexual orientation, age, marital status, or any other aspect that makes you, you. We advocate diversity in all its forms as it plays a key role in one of our core values, #teamwork.
We are explicitly not hiring anyone who does not respect this and encourage individuals from LGBTQIA+ and other underrepresented groups to apply.
We are proud to have been continuously ranked as one of Berlin's best tech employers!
See for yourself: Top Tech Employer in Berlin, Kununu, Glassdoor, Top 25 LinkedIn Startups.
*offers may differ for working students, interns and our international hubs