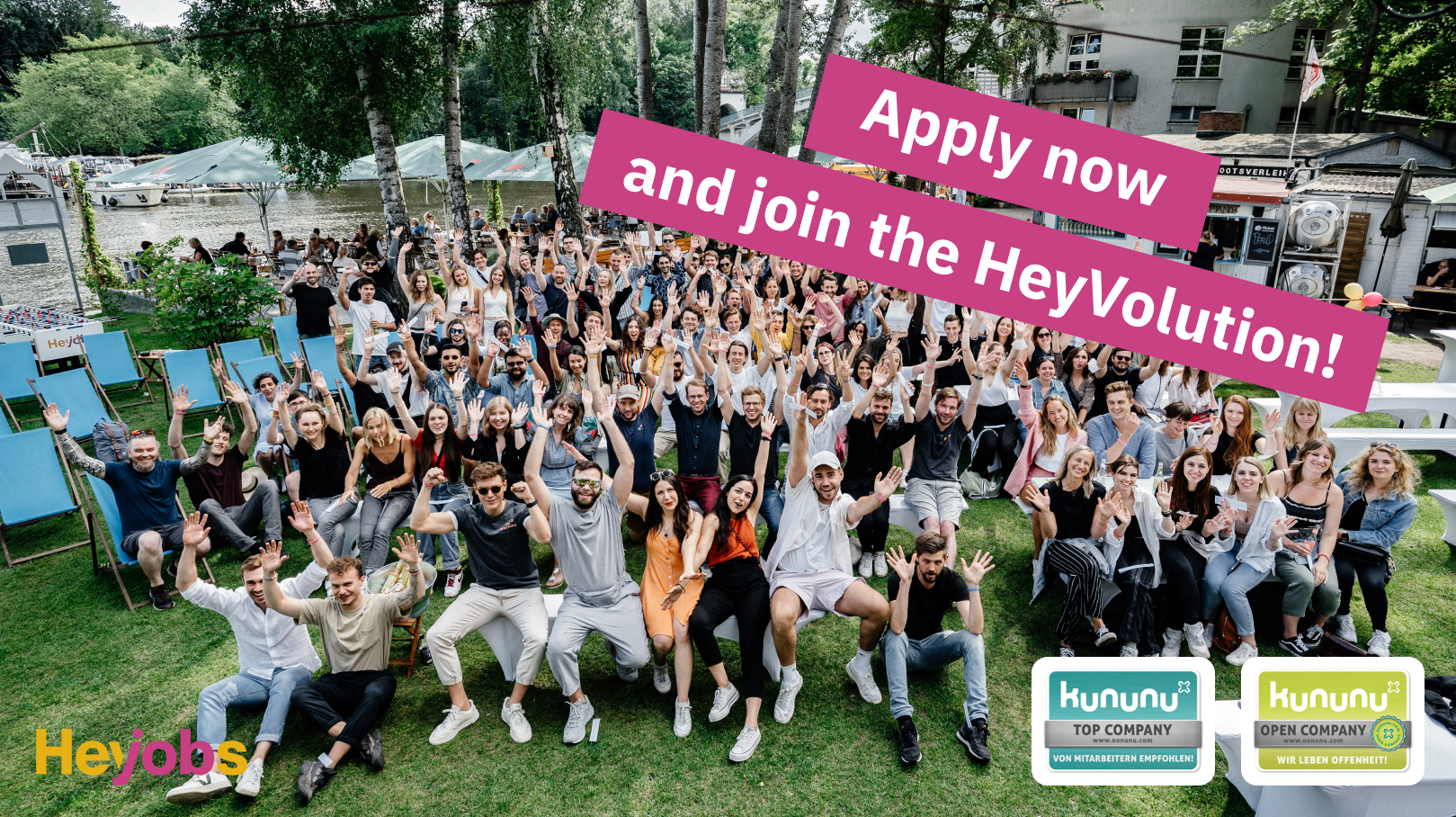 Help us prevent the coming labor shortage disaster of essential workers in Europe so that –
everyone can get medical care by nurses 🚑, everyone's trains arrive punctually 🚋, everyone's parents can get human elderly care 👵.
In 2021, we powered 1% of Germany's hires through HeyJobs.
Over 3'000 employers win their talent through our machine learning algorithms.
We positively impacted the lives of 100'000 essential workers by finding better jobs on our career platform. Learn more here.
With over €50M funding and a team of 300+, we are expanding to revolutionize the European job market (from Berlin, Cologne and Vienna).
Join the HeyVolution. 💛
Eine einflussreiche Rolle in einem schnell wachsenden Unternehmen:
Du führst ein Team von 24+ Account Manager:innen verteilt auf 3 Teams zum Erfolg und etablierst dabei HeyJobs als wichtigen Bestandteil im Recruiting unserer Partner:innen. Dein Team und Du verändert die Art und Weise, wie 2022 in deutschen Top-Unternehmen rekrutiert wird.
100% Product-Market Fit: Unser Produkt dient bereits über 3000 B2B-Kund:innen wie Deutsche Bahn, Volkswagen, Daimler, Vodafone bei ihren dringend benötigten Einstellungen. Wir bieten Dir ein riesiges Upselling-Potenzial, da wir unsere Technologie stetig kund:innenfokussiert weiterentwickeln. Dabei hast Du die Möglichkeit, AAA-Kund:innen komplett strategisch aufzubauen.
🎯 Was Du beitragen wirst
Du leitest und motivierst unsere wachsenden Account Management Teams (24+ Mitarbeiter:innen in aktuell 3 Teams) und bist für die disziplinarische Führung verantwortlich

Du sorgst für die kontinuierliche Weiterentwicklung Deiner Leads und setzt Dich proaktiv für die Suche und Einstellung von Leadern und Mitarbeiter:innen ein

Du entwickelst Vertriebsstrategien für einzelne Branchen und meisterst Solution-Selling für jeden Deiner individuellen Kund:innen

Gemeinsam mit Deinem Team und sorgst für den Weiterausbau des Kund:innenportfolios und erstellt Accountpläne einzelner Accounts

Du entwickelst strategische Ziele und brichst diese auf Team ebene runter, mit jeweiliger Steuerung der KPIs

Du analysierst unseren Account Management Prozess und identifizierst so neue Möglichkeiten, um gesetzte Standards im Team zu challengen, zu verfeinern und Wachstum zu generieren

Du entwickelst eine skalierbare Struktur, die unsere ambitionierten Wachstumspläne unterstützt und gleichzeitig unsere positive Kultur aufrechterhält
🤝 Was Du mitbringst
Du hast mindestens 2 Jahre Erfahrung als Führungskraft eines stark wachsenden Vertriebs-/Account Management-Teams idealerweise in einem Hyper-Growth Umfeld

Du bringst 4+ Jahre an Erfahrung im strategischen und operativen Account Management (B2B) mit und erkennst Cross- und Upsell-Potenzial und deren Methoden

Du besitzt Erfahrung mit langfristiger Kund:innenentwicklung und gemeinsamer Erarbeitung von Jahresplänen

Du vertiefst Dich genau so gerne in Daten und Prozesse wie in ein Kund:innengespräch

Du verkörperst Empathie und Begeisterungsfähigkeit

Du besitzt hervorragende verbale und schriftliche Fähigkeiten in Deutsch und Englisch
❤️‍🔥 What you will love about us
People & Values:

We treat people in the way people should be treated,

we bring out the best in everyone, we put our people first. Learn more

here

.

Growing individually and as a team:

7 step career framework, bi-yearly performance reviews, 3 days of yearly educational leave & 500€ budget*, HeyJobs Leadership Training Programs, in-house German classes

Work-Life Balance:

28 holidays*, plus 1 additional day p.a., minimum 3 weeks work from anywhere per year and a 1-month paid sabbatical* every 3 years, flexible work hours

Societal Impact Employee Groups:

Follow your passion with HeySustainability, HeyVoices, HeySisterhood, HeyPeace or found your own circle

Wellbeing:

6 free Mental Health sessions per year via Nilo.Health to enable every HeyJobber to connect with the right mental health solution for any mental health challenges they are facing, free seasonal flu (and COVID) vaccination

Benefits:

€50 monthly allowance* with Ben Card to spend on something you actually need and want. HeyJobs discounts for sustainable products and services via FutureBens & more

Events & Feel Good initiatives:

Fresh fruit, great drinks,

monthly team lunch, 3 company-wide events per year, quarterly team events & plenty of feel good initiatives

Relocation Package:

We will support your relocation financially and with practical organization to make you feel at home soon

Great offices with high quality equipment:

MacBook / ThinkPad, Sennheiser Headset, screen for home office + additional hardware; HQ Berlin (Kreuzberg, Paul-Lincke-Ufer); HeyHub Cologne (Design Offices Gereon), HeyHub Vienna (centrally located in 1020 Vienna) all with standing desks, hybrid set-up meeting rooms & AC - good public transport connections & great lunch options
At HeyJobs diversity and inclusion is key to creating a culture attracting the best talent and ultimately leading to achieving our vision. Together, we are 30 different nations, 45% women and 50% female leaders.
Fostering diversity and inclusion starts with hiring – therefore, we do not discriminate on the basis of religion, national origin, gender-identity, sexual orientation, age, marital status, or any other aspect that makes you, you. We advocate diversity in all its forms as it plays a key role in one of our core values, #teamwork.
We are explicitly not hiring anyone who does not respect this and encourage individuals from LGBTQIA+ and other underrepresented groups to apply.
We are proud to have been continuously ranked as one of Berlin's best tech employers!
See for yourself: Top Tech Employer in Berlin, Kununu, Glassdoor, Top 25 LinkedIn Startups.
*offers may differ for working students, interns and our international hubs