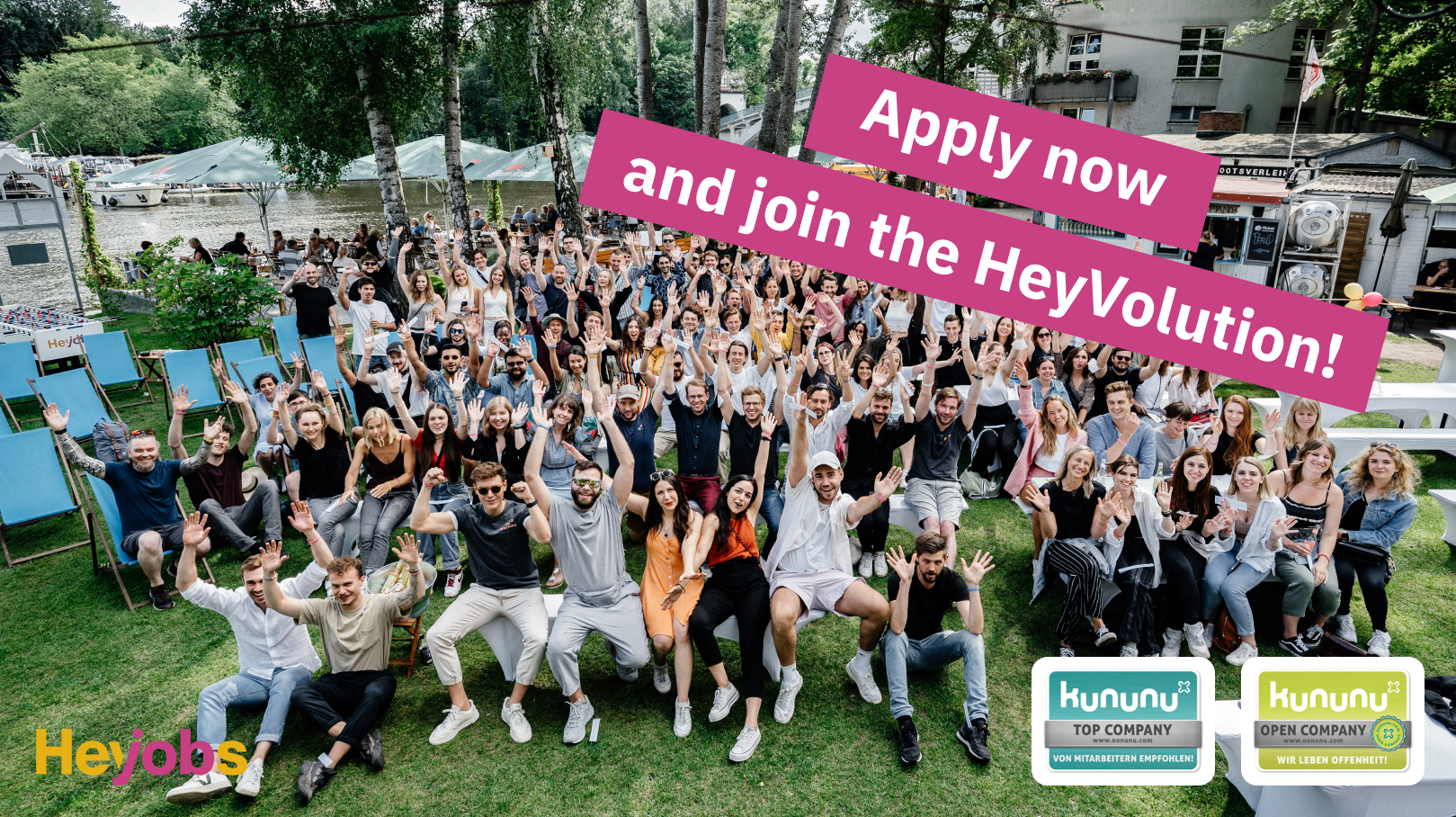 Would you like to use your skills to help 200 million non-academic talent across Europe to have the same career opportunities you have? Join the HeyVolution!
We use data & technology to match people to the right jobs and help them land their dream opportunity. With more than 2000 employers and a team of 200 HeyJobbers, our ambition is to become the largest talent platform in Europe - making exhausting and non-transparent job search a thing of the past
🌱 Our offer to you
An impactful role: As an Entrepreneur-in-Residence (f/m/d), you will work with our team of specialists to help research and test the latest digital marketing tactics and channels. Reporting to the Head of Performance Marketing, you'll play a direct role in helping us set up our international growth strategy and personalising our user acquisition funnel.
Be part of a technology-first marketing team: We fundamentally believe that the future of marketing will be an amalgamation of data, technology and creativity. Over the last few years, we have actively invested in building a state-of-the-art marketing technology and automation stack covering more than 30 different ad networks. We're looking for like-minded people who want to help us continue to challenge the status quo and build the next generation of data-driven marketing. This is also reflected in our structure with consumer marketing being a part of the research & development team in our organisation.
Follow your own path: We have a 7-step career plan with equal paths for managers and individual contributors. You have the opportunity to develop yourself in any direction with a wide array of technologies and the support of senior engineers & data scientists that love to learn from each other.
A welcoming company culture: Our values - Teamwork, Entrepreneurship, Drive - are integrated in all areas of our organization and build the core for a respectful and people-focused culture. Learn more.
🎯 How you can contribute to HeyJobs
Work as part of the existing performance marketing team and support the research and experimentation of new channels, tactics and strategies.

Bring a very hands-on approach and a bias towards action to help us test and launch international operations.

Work cross functionally with Marketing Operations, Marketing Engineering and Data Science to help the Head of Performance Marketing drive topics forward.

Learn how data driven automation works across marketing and product in order to build a career in performance marketing.

Think big, have an understanding of technology and affinity towards fast growing companies.

Work on special ad-hoc projects that help the performance marketing team drive further efficiency to its strategy.
🤝 What sets you up for success
This is a position ideal for a fresh graduate in a quantitative discipline (such as engineering, science, data or business intelligence) with an ambition to build a long term career in marketing technology.

You have a knack of manipulating data and identifying trends/patterns.

Hands-on mentality and comfortable working in a high growth environment.

Fluent working proficiency in English and German.

Willingness to jump on multiple projects and work with multiple stakeholders across channel management, product management and creative.

Deep passion for marketing, advertising and technology with the ambition to become a performance marketing manager or product manager in marketing.
At HeyJobs, we believe that diversity and inclusion is key to creating a culture that attracts the best talent and ultimately leads to achieving our vision. Fostering this starts with hiring -- therefore we do not discriminate on the basis of race, religion, color, national origin, gender, sexual orientation, age, marital status, or any other aspect that makes you, you. Quite the opposite, we hold this as one of our core values in #teamwork and are explicitly not hiring anyone who does not respect this.
🌎 A unique growth opportunity
Be part of a high-growth startup with a proven track record and direct positive impact on society - a LinkedIn Germany Top Startup Employer.





Diverse Team: English is our working language, and our team members come from everywhere, working in a diverse, cross-cultural team. Amongst our team are 25 different nationalities and 45% women both overall and in leadership roles





Secure Job: Over 2500 customers, proven business model & over 20M€ financing





Work-Life Balance: Hybrid working mode with 2 flexible days remote per week and 3 weeks work from anywhere





Perks & Benefits: weekly team lunch, annual company retreat, urban sports membership, 500€ annual learning budget, employee stock options, a 1-month paid sabbatical after 3 years, free seasonal flu (and COVID) vaccination, German classes, 6 free coachings per year and much more





Great Office: Kreuzberg, Paul-Lincke Ufer - great lunch options and food markets close by





High-quality equipment: Standing desk, Sennheiser headsets, Air-conditioned rooms, Apple Hardware, etc