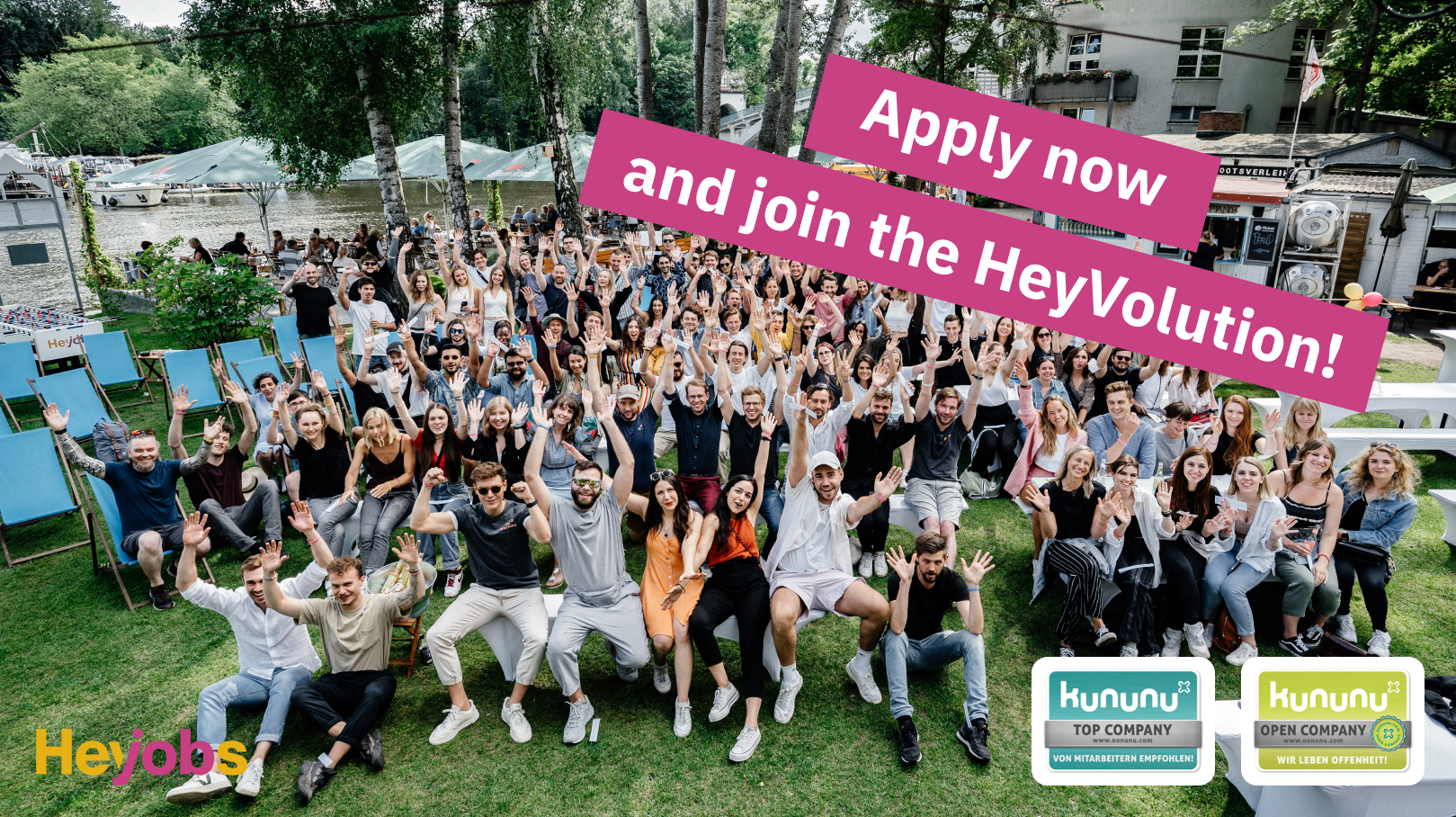 Would you like to use your skills to help non-academic talent to have the same career opportunities you have? Join the Heyvolution!
We use a rich data set we collect along the hiring processes of many companies & machine-learning technologies to connect people to their next job. On the other side, with the HeyJobs platform, we enable recruiters - our customers - who are desperately looking for talent, to get their open positions filled quickly with perfectly matching candidates.
With more than 2000 customers and a team of 200+ that is growing fast, our vision is to become the trustworthy career advisor for talent in Europe - making exhausting and non-transparent application processes a thing of the past.
🌱 Our offer to you
An impactful role: You will play a key role in shaping the culture and growing the engagement within our tech organization. You will have a major impact on how our developers see and like their jobs and the offered environment.

Follow your own path: We have a 7-step career plan with equal paths for managers and individual contributors., including bi-yearly performance feedback sessions. You have the opportunity to develop yourself in any direction with a wide array of technologies and the support of senior team members & coaches.

A welcoming company culture: Our values - Teamwork, Entrepreneurship, Drive - are integrated in all areas of our organization and build the core for a respectful and people-focused culture. Learn more.
🎯 How you can contribute to HeyJobs
HeyJobs is transitioning from startup into a scaleup with immense business success.
We are looking forward to doubling our R&D team in the next 12 months and growing well beyond afterwards.
As team and executive assistant you will work closely with our CTO to drive the success of our mission and scaleup journey across all of R&D.
You will provide administrative support for our CTO and the R&D leadership team and drive for efficient ways to maximize their time

You support meeting and workshop preparation and follow-ups, preparing presentations and data where necessary

You will own, establish and run a wide range of R&D initiatives such as:

Drive employee engagement & collaboration via events, meeting formats and further continuous improvement initiatives

Continuously improve our office buildout as well as remote collaboration setup with support from HR & IT Support

Improve onboarding and integration of our (mostly international) new joiners

Foster knowledge management and documentation

Run R&D internal communications such as newsletters, Q&As, AMAs etc.

Push Hosted meetups, foster conference attendance, tech blogging

Establishing Learning and development tracks in R&D

Overall R&D culture initiatives

Last but not least, you will leave a mark by radiating positivity, energy and enthusiasm and will scale this in our R&D organization.
🤝 What sets you up for success
2+ years experience as Team and/or Executive Assistant, HR Manager or Feelgood Manager in a high-growth tech company with over 100 employees

Experience in event planning and establishing department wide initiatives

You speak and write English fluently and have great communication and slide presentation skills

You are an outgoing, energetic person that loves to multiply positivity and create awesomeness through setups, events, and doing good for our overall team.

You have a high affinity to growing people and culture

You have good planning and prioritization skills, requiring little guidance

You have a good sense of humour and like to laugh, learn and grow with us !
Bonus:
German communication skills

Experience with Confluence and JIRA

Experience in agile methodologies like scrum, kanban

Direct exposure to having worked with product and/or engineering teams before
🌎 A unique growth opportunity
Great product with purpose:

To

help people get the right job to live a fulfilling life. Learn more

here

.

Be part of a high-growth startup with a proven track record and direct positive impact on society - a LinkedIn Germany Top Startup Employer
Welcoming company culture:

Our values - Teamwork, Entrepreneurship, Drive - are integrated in all areas of our organization and build the core for a respectful and people-focused culture.

Learn more.

Diverse Team:

23 different nationalities, 47% women (50% women in leadership), 38% of employees working in tech, LGBT+ champion

Seasoned executive team:

Serial entrepreneurs, pior experiences from Google, McKinsey, Accenture and successfully scaling several startups

High-quality equipment:

Electric standing desk, MacBook of choice, etc.

Career development:

Clear 7-step career path supported by In-house trainings and personal development budget for external trainings/conferences

Secure Job:

Over 2000 large clients, proven business model & over 20M€ financing

Work-Life Balance:

Flexible working hours, paid sabbaticals, several weeks/year full remote work, 1 home/remote day/week

Perks & Benefits:

Mila Health, weekly team lunch, annual company retreat, sports membership, fresh fruit & great drinks and much more

Great Office:

Air-conditioned office in Berlin-Kreuzberg, Paul-Lincke Ufer - great lunch options and food markets

Relocation Package: we will support your relocation financially and with practical organisation to make you feel at home soon
🕵️‍♀️ Want to know more about us?
We are proud to have been continuously ranked as one of Berlin's best tech employers! See for yourself: Top Tech Employer in Berlin, Kununu, Glassdoor, Top 25 LinkedIn Startups.
Check out our blog, LinkedIn, or our tech blog to find out more about us.
At HeyJobs, we believe that diversity and inclusion is key to creating a culture that attracts the best talent and ultimately leads to achieving our vision. Fostering this starts with hiring -- therefore we do not discriminate on the basis of race, religion, color, national origin, gender, sexual orientation, age, marital status, or any other aspect that makes you, you. Quite the opposite, we hold this as one of our core values in #teamwork and are explicitly not hiring anyone who does not respect this.