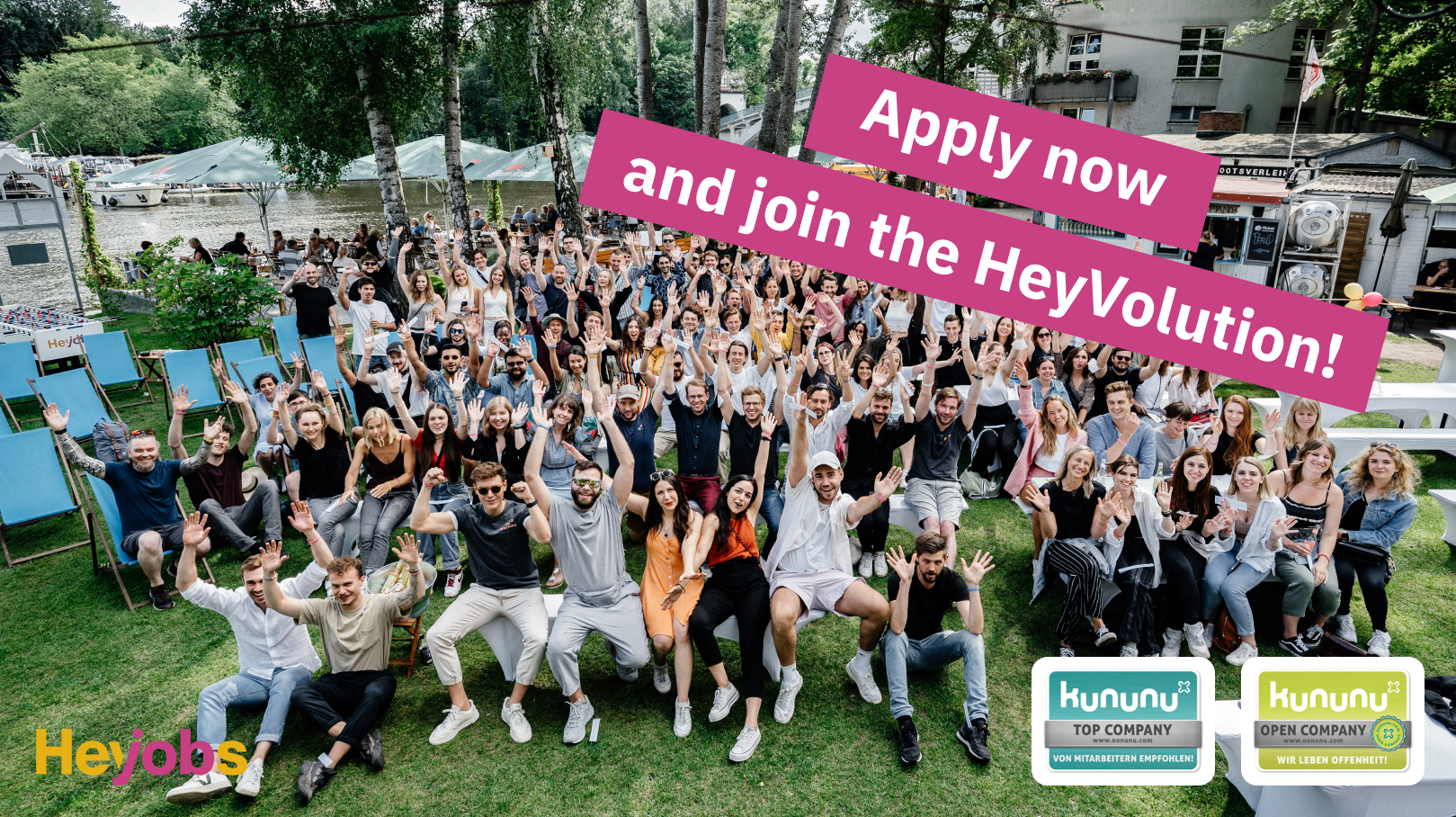 Would you like to use your skills to help 200 million non-academic talent across Europe to have the same career opportunities you have?
Join the HeyVolution!
We use data & technology to match people to the right jobs and help them land their dream opportunity. With more than 2'000 employers and a team of 180 HeyJobbers, our ambition is to become the largest talent platform in Europe - making exhausting and non-transparent job search a thing of the past.
🌱 Our offer to you
---
An impactful role:

Drive revenue growth and organisational scale up, by consulting our internal B2B departments, ranging from Brand Marketing to traditional sales functions, as well as our Employer product (including pricing, etc.). You are driving cross-departmental projects in a PMO (Project Management Office) set-up and are responsible for introducing our newest moonshots into the organisation.

Continuous learning with an incredible team:

Be part of our incredible inhouse consulting team, with experience from various Top Tier consultancies, but also hands-on-business building track record. Find your perfect mixture of strategic and analytical work and hands-on implementation - not just slides, but meaningful outcomes.

A welcoming company culture: Our values - Teamwork, Entrepreneurship, Drive - are integrated in all areas of our organization and build the core for a respectful and people-focused culture. Learn more.
🌎 A unique growth opportunity
---
Be part of a high-growth startup with a proven track record and direct positive impact on society - a LinkedIn Germany Top Startup Employer

Diverse Team: English is our working language and our team members come from every corner of the globe, working in a diverse, cross-cultural team. Amongst our team are 25 different nationalities and 45% women both overall and in leadership roles

Secure Job: Over 2'000 customers, proven business model & over 20M€ financing

Work-Life Balance: Hybrid working mode with 2 flexible days remote per week and 3 weeks work from anywhere

Perks & Benefits: weekly team lunch, annual company retreat, urban sports membership, 500€ annual learning budget, employee stock options, a 1-month paid sabbatical (after 3 years), free seasonal flu (and COVID) vaccination, German classes, 6 free Mental Health coachings per year and much more

Great Office: Kreuzberg, Paul-Lincke Ufer - great lunch options and food markets close by

High-quality equipment: Apple Hardware, Standing desk, Sennheiser headsets, Air-conditioned rooms, etc
🎯 How you can contribute to HeyJobs
---
You work on our newest projects guided by the input from our Vice Presidents and C-Level to steer and implement projects with high impact on achieving our short-term and long-term goals

You challenge the status quo and provide insightful data-driven strategic recommendations through proactive analysis of key metrics and (market) research

You work closely with other internal departments, such as Sales, Product and Marketing, to improve our business, financial and functional performance by monitoring and challenging existing processes

You support senior management in ad-hoc reports, business modelling and other critical topics

Your eye for the small details and style bring the company to the next level of excellence
🤝 What sets you up for success
---
You have a university degree with an excellent academic track record

You have ideally gained several years of working experience in (top tier) management consulting, investment banking, corporate finance/or start-up business development function

You display strong entrepreneurial thinking as well as a good understanding of business contexts and are hands-on

You have outstanding planning and prioritization skills, requiring little guidance

You are highly comfortable in analysing numbers, business modelling and capable of drawing decisions based on both intuition and data

You are tech-savvy and fast using G Suite (or MS Office) and enjoy solving complex data problems in Google Sheets and Excel and possess high attention to detail. Knowledge of data visualization tools such as Tableau is a strong plus

You are someone who moves at a fast pace and is still able to do your best work at these speeds

You have excellent communication in German + English and can manage multiple stakeholders across all levels of the organization
At HeyJobs, we believe that diversity and inclusion is key to creating a culture that attracts the best talent and ultimately leads to achieving our vision. Fostering this starts with hiring -- therefore we do not discriminate on the basis of race, religion, color, national origin, gender, sexual orientation, age, marital status, or any other aspect that makes you, you. Quite the opposite, we hold this as one of our core values in #teamwork and are explicitly not hiring anyone who does not respect this.