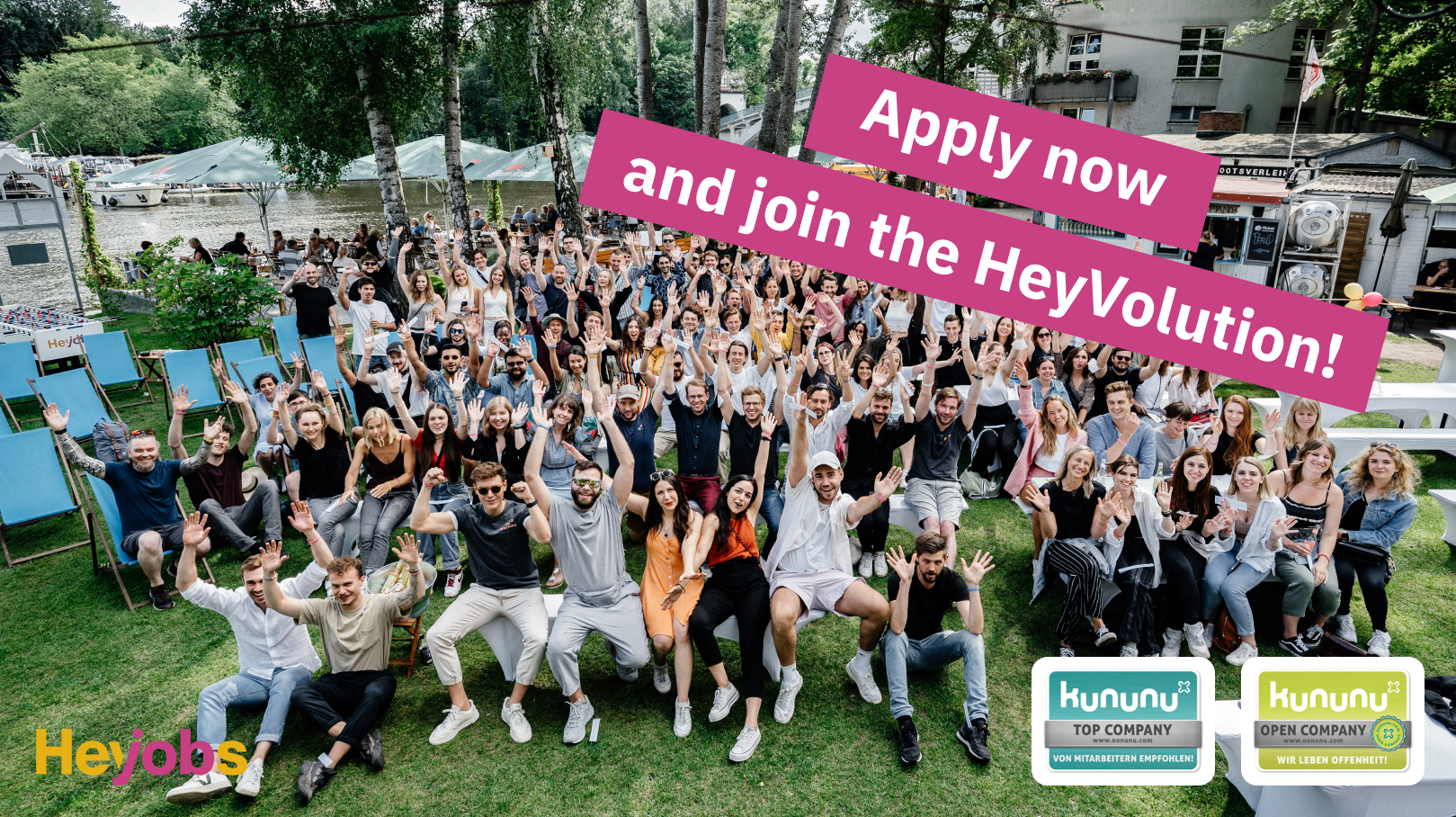 Help everyone find the right job to live a fulfilling life. Join the Heyvolution!
A perfect match! Not only the dream of all romance hungry people, but also the dream of every employee and employer out there. At HeyJobs, we use rich data sets and machine-learning technology to match talent and companies. With more than 1700 customers and a team of 170+ outstanding individuals, we are striving to become the trusted career platform and advisor for talent in Europe - making exhausting and non-transparent application processes a thing of the past.
🌱 Our offer to you
---
An impactful role:
As a working student in the performance marketing team, you will gain direct experience of working with the most advanced marketing tools. While working directly with our marketing managers, you'll support the growth and development of our marketing channels and take a front row seat as we enter the next stage of our growth.
Be part of a technology-first marketing team:
We fundamentally believe that the future of marketing will be an amalgamation of data, technology and creativity. Over the last few years, we have actively invested in building a state-of-the-art marketing technology and automation stack covering more than 30 different ad networks. We're looking for like-minded people who want to help us continue to challenge the status quo and build the next generation of data-driven marketing. This is also reflected in our structure with consumer marketing being a part of the research & development team in our organisation.
Follow your own path:
We have a 7-step career plan with equal paths for managers and individual contributors. You have the opportunity to develop yourself in any direction with a wide array of technologies and the support of senior engineers & data scientists that love to learn from each other.
A welcoming company culture:
Our values - Teamwork, Entrepreneurship, Drive - are integrated in all areas of our organization and build the core for a respectful and people-focused culture.
Learn more.
🎯 What you contribute
---
Work with the performance marketing team to run tests, collect and analyze data, identify trends and insights in order to fully optimise the our campaigns running on different platforms.

Work with our creative team in order to help optimise different creatives for different audiences and help create a process to optimise our creative strategy.

Supporting data-driven decision making regarding experiments to be planned for new and existing channels along with the marketing managers.

Collaborate with the Marketing Engineering team to facilitate integration of new tools and scripts to further our automation landscape in line with our scaling goals.

Support strategic initiatives in terms of research and prototyping.
🤩 What you need to bring
---
Studying a quantitative discipline (such as Analytics, Digital Marketing or Computer Science) with the aspiration to build a career in technology driven marketing.

Strong logical reasoning and problem solving skills.

Entrepreneurial mindset with the willingness to work in high growth environments. (ideally with some internship experience)

Deep passion for at least technology or marketing (ideally both)

You are enrolled in a German university and are available for about 20h/week

You have a very good command of written and spoken English

Team player who is dependable and impact-driven.
🙌 What our employees also like about us
---
Diverse Team:

23 different nationalities, 47% women (50% women in leadership), 38% of employees working in tech, LGBT+ champion

Secure Job:

Over 1'500 customers, proven business model & over 20M€ financing

Work-Life Balance:

We believe in holistic work-life integration, which reflects in our flexible working environment including remote working benefits (even after the pandemic)

Perks & Benefits:

weekly team lunch, annual company retreat, urban sports membership, employee stock options, a 1-month paid sabbatical (after 3 years) and much more

Great Office:

Kreuzberg, Paul-Lincke Ufer - great lunch options and food markets close by

High-quality equipment:

Standing desk, MacBook of choice, etc.