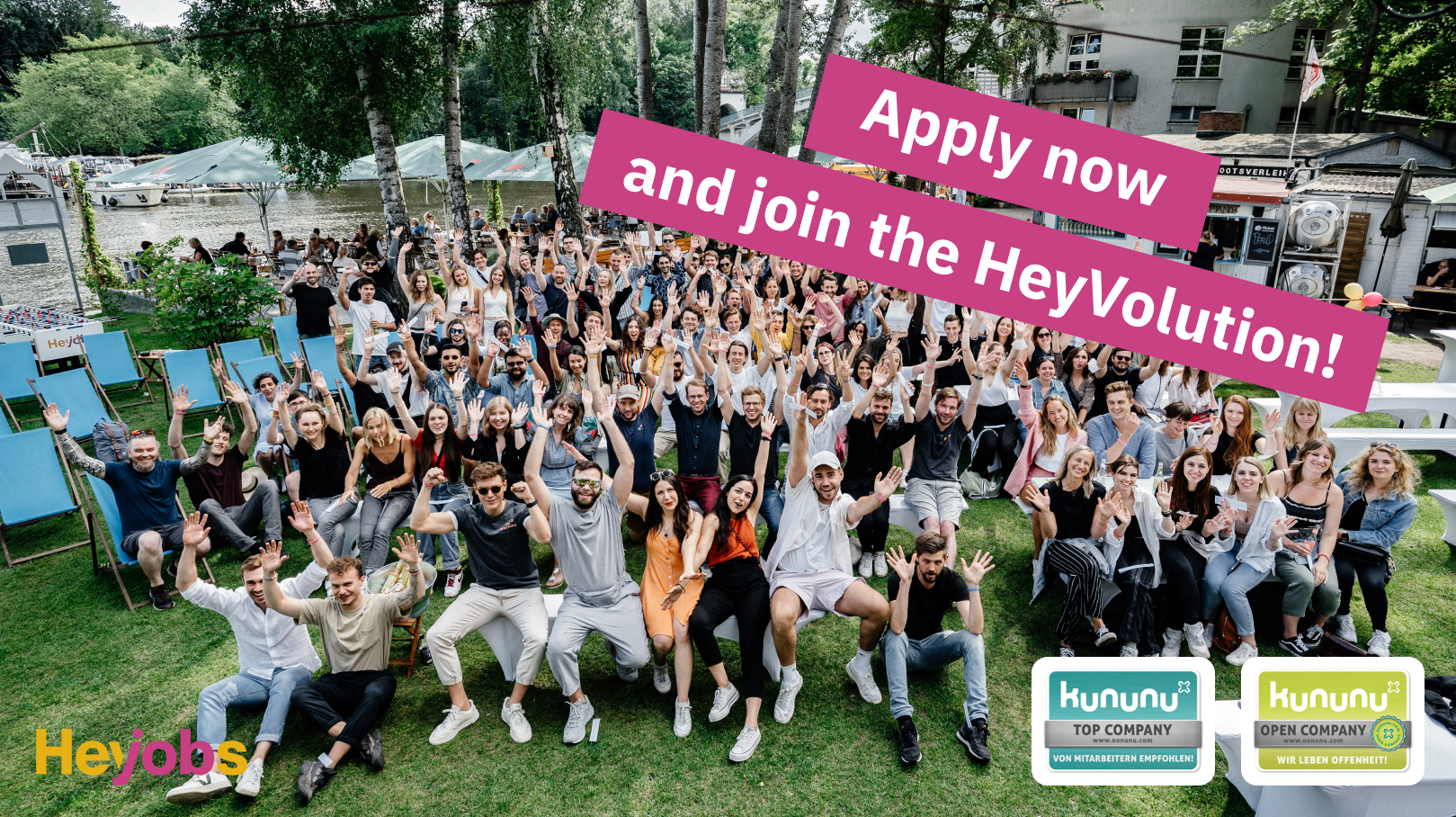 Would you like to use your skills to help 200 million talents across Europe to have the same career opportunities you have? Join the HeyVolution!
We use data & technology to match people to the right jobs and help them land their dream opportunity. With more than 2'500 employers and a team of 200+ HeyJobbers, our ambition is to become the largest talent platform in Europe - making exhausting and non-transparent job search a thing of the past.
🌱 Our offers to you
---
An impactful role in a high growth company:
As part of the Marketing Engineering team, you will get deep insights into marketing automation in a fast growing company. You drive innovation and increase the efficiency of social and display channels in a data and technology-driven manner.
Follow your own path:
We have a 6-level career framework with equal paths for managers and individual contributors, including bi-yearly performance feedback sessions. You have the opportunity to develop yourself in any direction with a wide array of technologies and the support of senior team members & coaches.
A welcoming company culture:
Our values - Teamwork, Entrepreneurship, Drive - are integrated in all areas of our organization and build the core for a respectful, inclusive and people-focused culture.
🎯 What you can contribute
---
You run, own and become the go-to-person of our social media ad accounts and display campaigns.

You run tests, collect and analyze data, identify trends and insights in order to fully optimize the the accounts from campaigns set up, to bidding strategy, to budget management.

You contribute actively to the planning and development of our social media strategy and are responsible for implementation and monitoring.

You are industry-savvy, always up-to-date and know about all new Marketing trends.
🤩 What you need to bring
---
You have a minimum of 3 years experience in managing Facebook campaigns.

You have successfully run campaigns on display channels.

You know your way around remarketing and audience management.You don't need to be an expert in web tracking, but you should at least have a basic understanding of cookies, tags and triggers as well as attribution logics.

You have a passion for analysis and understand what and where you need to dig into to find your answers. You don't just stay top-line, you look for and find the root causes as well as come up with and propose potential solutions, even cross-team when appropriate.

You are an excellent communicator and can easily simplify complex problems.

SQL and Google Scripts experience is a plus.

You are fluent in English. Native or fluent German is preferred.
🙌 What our employees also like about us
---
Diverse Team:

23 different nationalities, 47% women (50% women in leadership), 38% of employees working in tech

Secure Job:

Over 1'700 customers, proven business model & over 20M€ financing

Work-Life Balance:

100% home office in current situation; flexible working hours, paid sabbatical

Perks & Benefits:

Mila health, weekly team lunch, annual company retreat, urban sports membership, and much more

Great Office:

Kreuzberg, Paul-Lincke Ufer - great lunch options and food markets close by

High-quality equipment: Standing desk, MacBook/ThinkPad, Headset, Monitor etc.
🕵️‍♀️ Proof
---
At HeyJobs, we believe that diversity and inclusion is key to creating a culture that attracts the best talent and ultimately leads to achieving our vision. Fostering this starts with hiring -- therefore we do not discriminate on the basis of race, religion, color, national origin, gender, sexual orientation, age, marital status, or any other aspect that makes you, you. Quite the opposite, we hold this as one of our core values in #teamwork and are explicitly not hiring anyone who does not respect this.