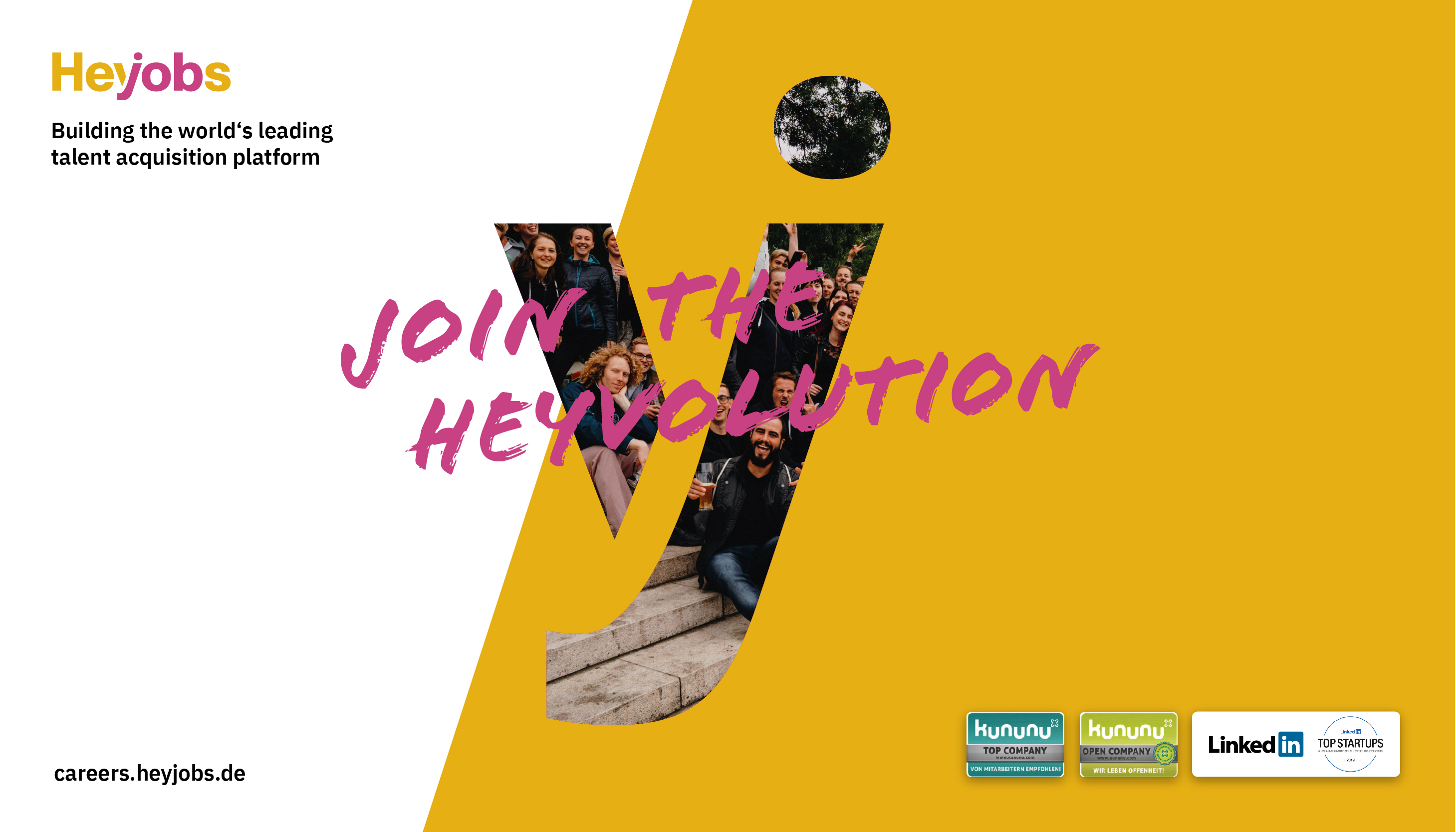 Would you like to use your skills to help non-academic talent to have the same career opportunities you have? Join the Heyvolution!
We use a rich data set we collect along the hiring processes of many companies & machine-learning technologies to connect people to their next job. On the other side, with the HeyJobs platform, we enable recruiters - our customers - who are desperately looking for talent, to get their open positions filled quickly with perfectly matching candidates.
With more than 1700 customers and a team of 135+, our vision is to become the trustworthy career advisor for talent in Europe - making exhausting and non-transparent application processes a thing of the past.
Your role:
We are looking for a freelancer to support us asap for the next 6 months in delivery and ramping our team (with possibility to extend).
Full remote work is possible. If your situation permits, we are also happy to welcome you to work onsite with our team in Berlin, fully or partial.
You bring technical and scientific impact to our Budget and Recommendations (BAR) team.
Direct business impact: Our budget and recommendations products are key components of the core value creation process at HeyJobs; a strong delivery by the BAR team is critical for our success.
End to end responsibility: You will be in charge of designing, prototyping, deploying and maintaining data science / machine learning solutions for our marketing optimization processes but also further areas of the growing business.
The role reflects a wide scope. It encompasses the entirety of the DS/ML life cycle: from data gathering and exploratory analysis, to training and evaluating models, to deployment and monitoring.
Aside from marketing optimization, upcoming projects include recommender systems, information extraction and enrichment using NLP and more.
In your role, you will report directly to the teamlead DS/ML.
You have:
A degree in Data Science, Machine Learning, Computer Science, Mathematics, Physics or a related field

Experience in algorithmic marketing/marketing analytics/econometrics (if possible in multi-channel setup)

Solid knowledge in probability theory

Joy in proactively helping with small ongoing projects & operational work instead of expecting to work in a fancy new ML project

3+ years experience in developing, deploying and maintaining Machine Learning applications at multiple organizations

A good understanding of the concepts and statistics behind Machine Learning algorithms

Solid Python software engineering skills, including best practices like CI/CD and Git

Proven experience in contributing to data science teams in industry: you have successfully solved business problems through data-driven solutions - from conception to production

Experience conducting exploratory data analysis, descriptive or prescriptive analytics

Exposure to cloud technologies for modern on-demand data science (we use AWS)

Strong communication skills: you are good at explaining your choices, enjoy collaborating, and present ideas in a clear and structured manner

Support to build a nice team environment

A hands-on mindset, adept at learning and grasping new concepts quickly

The ability to work self-organized in an agile environment

Fluency in English
Bonus:
Experience with AWS

Experience with Docker and Airflow

Experience with modern NLP techniques
You will
Contribute to the research and development of machine-learning-powered solutions in the scope of marketing mix optimization, recommendation engines and data enrichment

Collaborate with other data scientists and data engineers on the full conception to production lifecycle

Work on optimization problems to maximize the revenue of our clients given a marketing budget leveraging:

Machine learning to solve multivariate time series regression problems

Non-linear and linear optimization algorithms

Utility maximisation theory & marketing mix models

Additionally we are looking forward to work on topics to

Translate raw text data into matching algorithms leveraging state-of-the-art models

State-of-the-art transformers for text classification problems
Why Heyjobs?
Great product with purpose:

To

help people get the right job to live a fulfilling life. Learn more here.
Welcoming company culture:

Our values - Teamwork, Entrepreneurship, Drive - are integrated in all areas of our organization and build the core for a respectful and people-focused culture.

Learn more.

Diverse Team: 23

different nationalities, 47% women (50% women in leadership), 38% of employees working in tech, LGBT+ champion

Modern technology stack:

Check out our Stack.

Great Office:

Air-conditioned office in Berlin-Kreuzberg, Paul-Lincke Ufer - great lunch options and food markets
Want to know more about us?
We are proud to have been continuously ranked as one of Berlin's best tech employers! See for yourself: Top Tech Employer in Berlin, Kununu, Glassdoor, Top 25 LinkedIn Startups.
Check out our blog, LinkedIn, or our tech blog to find out more about us.