All offices are currently open, and our employees are back 4 or 5 days a week in Hudson Yards, NY and 3 days a week in all other offices. If you have questions on this policy or the application process, please contact recruiting@gafg.com.
Company policy requires all employees and visitors to the Hudson Yards, NY office to be vaccinated against the COVID-19 virus.
COMPANY OVERVIEW
Global Atlantic Financial Group is a leader in the U.S. life insurance and annuity industry, serving the needs of individuals and institutions. Global Atlantic is a majority-owned subsidiary of KKR, a leading global investment firm that offers alternative asset management across multiple strategies and capital markets solutions.

Global Atlantic is looking for a diverse team of talented individuals who reinforce our culture of collaboration and innovation. We are dedicated to the career development of our people because we know they are critical to our long-term success. Join our team and come grow with us.
Internal Account Manager, Strategic Partner Group (SPG)
This role is responsible for supporting the SPG Business Manager and Channel teams across all channels – Banks, Independents, Wirehouse/Regionals and IMOs. This individual's work will span across the SPG team in a support role covering responsibilities such as: Supporting business manager with various projects and initiatives, managing logistics for BD/IMO firm and Global Atlantic events, supporting the onboarding of new firms, planning communications to firms regarding product, compliance, and organizational announcements, and supporting the team with firm reporting, competitive analysis, and the creation of quarterly presentations.
Additional responsibilities include:
Understand how our products are being positioned in the field and articulate the positioning
Understand the profitability of our products and strategies
Support Channel teams in creating and driving channel business plans and key opportunities
Work to keep annual selling agreements up to date and track firm and FP/agent bonus programs
Communicate monthly team budget updates and manage the firm payment process
Continually update and enhance firm Salesforce pages so that sales teams and managers can access updated account information
Tracking of firm campaigns and determination of general effectiveness. Deliver campaign results to SPG team in partnership with sales operations
Track and analyze GA market share at firms, maintain information on Sharepoint, and assist in identifying firm risks and opportunities
Notify Channel Executive and Competitive Intel of key shifts in market share, rates, and business mix with our partner firms
Be a team player, sharing ideas and feedback to deliver business building ideas to take advantage of firm opportunities
Continually look at team processes to refine and drive efficiencies
QUALIFICATIONS
College degree required
Series 6 and Life/Health license required
Proficiency in Microsoft Office (Excel, Word, PowerPoint, Outlook) required
Must be self-motivated and a strong team player
Analytical and reporting skills
Strong interpersonal skills and relationship management skills
Desire to work in a dynamic and fast-paced environment
Ability to work autonomously
Commitment to customer service and willingness to adapt as necessary
Excellent written and verbal communication skills required
#LI-AM1
TOTAL REWARDS STATEMENT
Global Atlantic's total rewards package is reflective of our corporate values, particularly diversity, excellence and innovation, with a focus on inclusion, pay equity, and flexibility. We are proud to support your personal and professional growth and well-being through programs such as educational assistance, virtual physical therapy, remote/onsite fitness reimbursement, a medical second opinion program, pet insurance, military leave, parental leave, adoption assistance, fertility and family planning coverage. We strive to foster a culture of total well-being through community outreach and charitable giving programs.
We are active in our communities-
New York: Red Hook Conservancy, Girls Who Invest and The Bowery Mission
Boston: Cradles to Crayons, Project Bread, Let's Get Ready, Rise Against Hunger, Salvation Army and many other local volunteer organizations in around the Boston area
Hartford: Habitat for Humanity, Foodshare, Humane Society, Hands on Hartford, Mercy Shelter and Dog Star Rescue
Indianapolis: Elevate Indianapolis, Gleaners Food Bank and the Juvenile Diabetes Research Foundation
Batesville: American Cancer Society Relay for Life, Angels of Giving, Margaret Mary Health Foundation, Ripley County Community Foundation, Safe Passage, Batesville High School Sponsorships, local area youth sports and food pantries, as well as many others
Des Moines: United Way, Central Iowa Shelter & Services, Junior Achievement of Central Iowa and Make a Wish Foundation
Berwyn: Food drive and will be planning an event to help a local family over the holidays
Atlanta: Packaged Good Organization, which helps the most vulnerable community members with providing personalized care packages for people in need including the elderly, our armed forces, the homeless and hospitalized kids
Bermuda: Sponsor of a weekly feeding program operated by The Hamilton Seventh-Day Adventist Church
Social platforms provide an environment to collaborate with others and participate in friendly competitions towards achieving physical, emotional and financial well-being. Our highly competitive health, retirement, life and disability plans can be tailored to best suit your needs and those of your whole family.
Global Atlantic is committed to creating an inclusive environment where everyone can meaningfully contribute to our success. We are proud to be an equal opportunity employer and we do not discriminate in employment on any basis that is prohibited by federal, state or local laws. More than that, we strive to be inclusive of all backgrounds and experiences, which we feel gives us a competitive advantage in the market and within our firm. All qualified applicants will receive consideration for employment without regard to race, color, religion, gender, gender identity or expression, sexual orientation, national origin, disability, age, or veteran status.
Employees who require an accommodation to perform the essential functions of their job will participate in an interactive process which may include providing documentation. If you are hired and require an accommodation for any protected status, please email benefits@gafg.com.
Please click on the links below to learn more about Global Atlantic.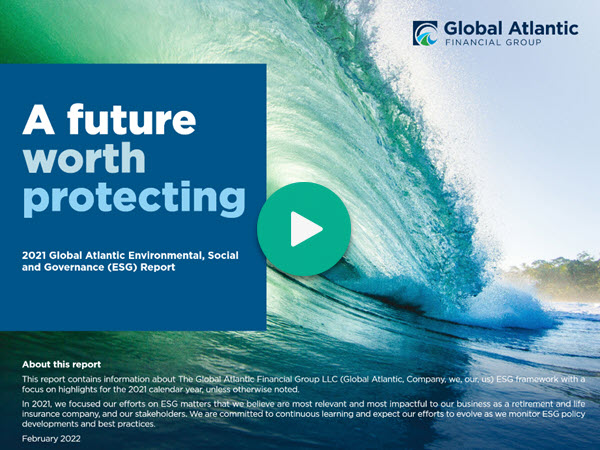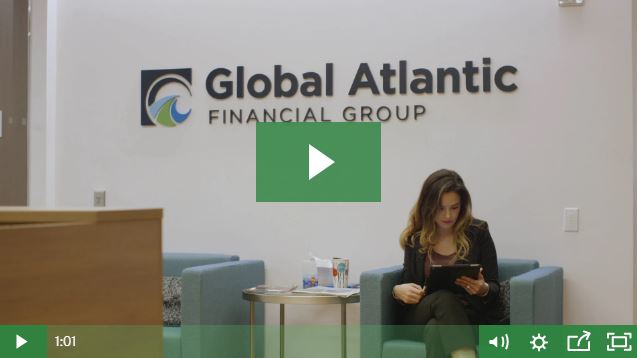 Global Atlantic Financial Company Employee Candidate Privacy Notice