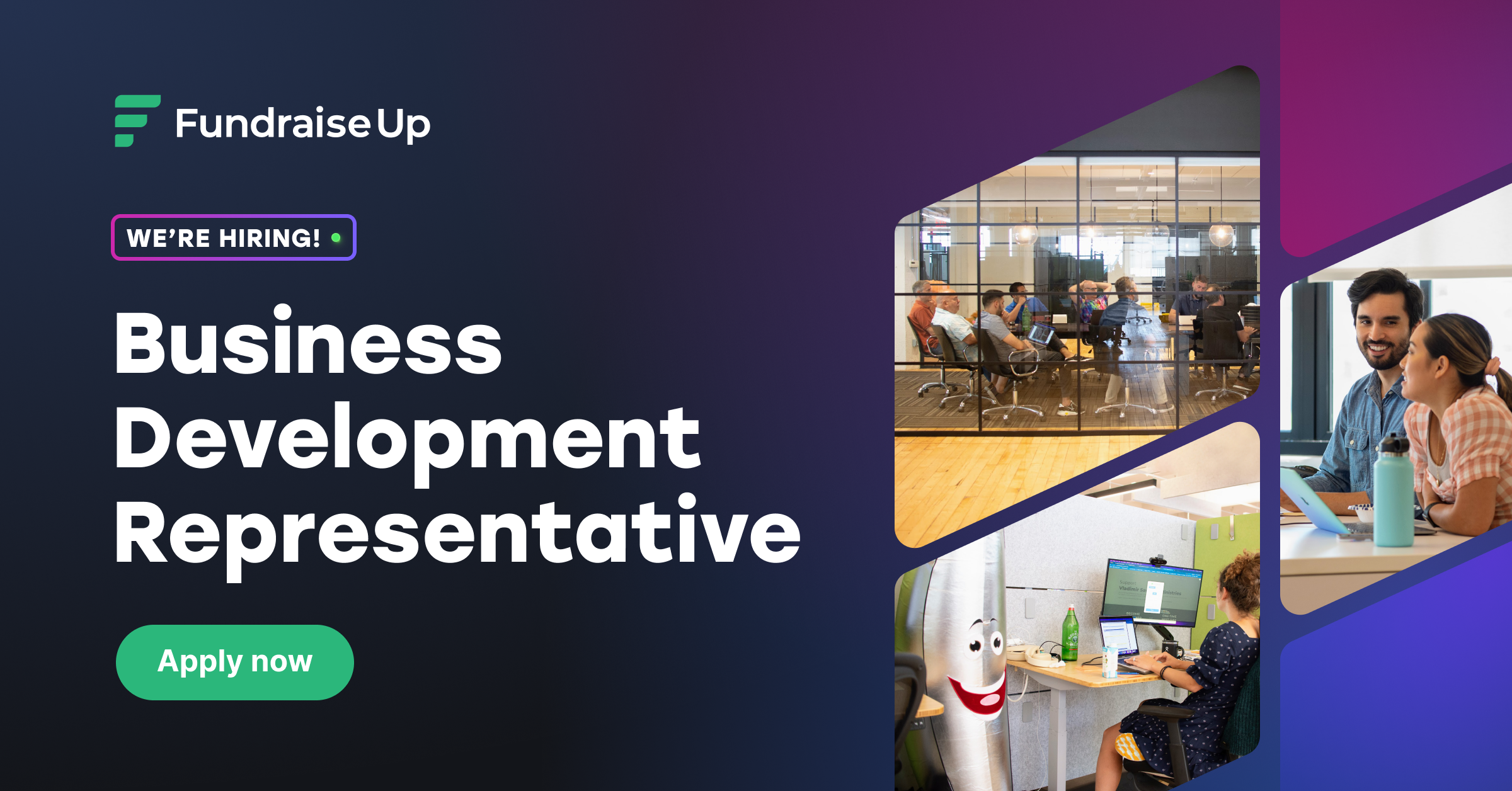 About Us
Nonprofits deserve better technology.
Fundraise Up is a rapidly growing financial technology company headquartered in Brooklyn, NY that provides online fundraising software to enterprise nonprofits. Fundraise Up's AI-powered platform is leveraged by trusted organizations like UNICEF USA, American Heart Association, Partners In Health, and Stand Up to Cancer, to double their recurring donor acquisition rates and increase overall digital donation revenue by 2X.
About The Role
As a Business Development Representative (BDR), you are the first point of contact for prospects of Fundraise Up. You will conduct outreach through numerous channels including outbound calls, emails, LinkedIn, etc. The BDR acts as the primary liaison between the prospect and our sales force of highly trained Account Executives. We're looking for someone who has an unwavering ability to develop quick relationships with prospects to define areas of need within the industry.
Your day-to-day will involve working and building relationships with some of the world's most recognizable nonprofit organizations. You'll be leading the charge in promoting and selling industry-leading technology that will transform the space for many years to come. As a company, we are currently in hyper-growth mode, looking to scale our team and bring on individuals who are highly motivated and ready to crush their targets!
Success as a BDR is measured by consistently hitting and exceeding your goals - staying ahead of your daily and monthly metrics, handling pressure in stride while promoting industry best practices, and adapting to a competitive yet friendly team-focused environment. An ideal candidate is an organized, motivated individual looking to establish a long-term career in sales with goals of one day moving into an Account Executive role at Fundraise Up.
As a Business Development Representative, your day-to-day will include:
Executing an outbound business development plan to generate new business opportunities and conduct high-level conversations with key stakeholders through multiple forms of outreach.
Working closely with leadership to create and prioritize a plan of action and consistently reviewing results.
Explaining how Fundraise Up brings value to the customer's needs.
Sourcing strategic accounts, identifying key individuals, researching and obtaining business requirements and presenting solutions to start the sales cycle.
Ensuring successful follow-through of the sales cycle by maintaining high levels of activity and keeping the pipeline up-to-date within CRM.
You're likely to succeed if you:
Have prior BDR experience (3+ months preferred)
Are excited to begin a career in tech sales and curious about emerging technologies and startups.You have excellent oral and communication skills including writing, speaking, listening and cold-calling that show enthusiasm, energy, and poise.
Have a phone-first mind set = ready to cold call and book meetings daily.
Are willing to learn and are highly coachable.
Understand and can apply effective business development strategies and techniques.
Have a passion for building new business and willingness to work in a collaborative environment.
Have technical expertise and ability to acquire knowledge of new technology.
Bonus Points
Experience working with / selling into non-profit organizations
Experience working for sales in SaaS / tech based companies
Salesforce and Outreach.io experience
Highly motivated, driven and self-starting individual
A Bachelor's degree from an accredited University is strongly preferred
What We Offer
Our compensation package includes comprehensive benefits and perks, meaningful equity, and a competitive salary:
Competitive compensation plan
Stock options
Generous PTO policy
8 paid company holidays
100% covered medical/dental/vision insurance
Complimentary organic lunch services daily
Fully stocked kitchen with endless snacks, wine/beer, and good coffee
On-site gym membership paid in full
$1,500/y professional development and learning stipends
Beautiful office with views of Manhattan skyline and the Statue of Liberty
Industry City Creative Hub with live music, yoga classes, events and plenty of food around
Base Pay Range: $40,000 - $50,000
On Target Earnings: $90,000 - $100,000
Top Earners Make: $120,000+
Fundraise Up provides equal employment opportunities (EEO) to all employees and applicants for employment without regard to race, color, religion, sex, sexual orientation, gender identity, national origin, age, or disability.
This role may be performed fully remotely within the United States. Please note that our US headquarters are located in NYC. If the remote work is performed outside of our NYC office, income may be subject to New York State tax withholding.