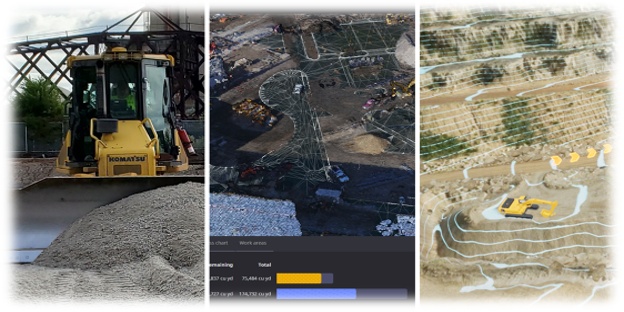 We are looking for an experienced JS Developer to join Cesium's Smart Construction Solutions Team. As part of the engineering team you will work across all levels of the stack to build Smart Construction applications that are pushing the boundaries on what you can do with 3D data. Our engineering team regularly works with domain experts to simplify complicated processes and implement intuitive workflows to maximize usability for non-technical users. The team also builds data pipelines to manage, process and visualize large amounts of 3D data from a variety of sources. These are just a few examples of the unique projects you will work on as a part of Cesium Smart Construction team.
Our team is poised to take advantage of this extraordinary opportunity and are looking for individuals with a passion for software development and want to be part of a fast growing team helping transform the earthworks industry.
What you will do:
Build and ship code. Expect to code every day for most of the day.

Work at all levels of the stack to build, document, test, and maintain the Smart Construction Dashboard application and servers.

Participate in collaborative development using GitHub, code reviews, and CI

Work on challenging problems in a fast-paced continuous learning environment
What we are looking for:
3 - 10+ years of full time JavaScript experience after completing undergraduate degree.

Strong modern JavaScript development skills that are well-versed in at least one tech stack using libraries and tools like LitElement, React, Redux, Node.js, and similar.

Strong understanding of REST APIs, and relational databases, such as PostgreSQL

Experience with Docker-based development and AWS is a bonus, but not required.

Experience or interest in DevOps, InfraOps, and CI/CD is a bonus, but not required.

Experience with big data, or geospatial data is a bonus, but not required.
Cesium offers:
Competitive base salary and bonus
Stock options to share in the growth that you help create
100% medical coverage for you and your dependents, and 99% coverage for dental and vision. 100% premium coverage for short term and long term disability.
Tuition and Loan Reimbursement program
Wellness Benefits Visa Card to promote and encourage healthy activities and lifestyle.
401K with 100% matching up to 6%. 100% vested from day one.
Remote Workspace Benefit- $1,000 expense to buy office furniture for your remote workspace
3 weeks paid vacation
12 paid holidays throughout the calendar year, including a winter break
Maternity and paternity leave
Learning opportunities including workshops and Kindle or Audible credits
Frequent team social events
Center city office with roof deck and just steps from public transit
Free lunch, snacks, and drinks at the office
Commuter benefit for public transit and parking
Cesium was awarded:
2020 Technology Startup Enterprise Award by the Philadelphia Alliance for Capital and Technologies (PACT)
2020 Startup of the Year in the Geospatial World Awards by Geospatial Media and Communications
One of Philadelphia's Best Places to Work in Tech 2020 by Tech in Motion
This position is located in our Philadelphia, PA office.
We are an Equal Opportunity Employer and invite candidates from all different backgrounds to bring their unique perspective to Cesium.