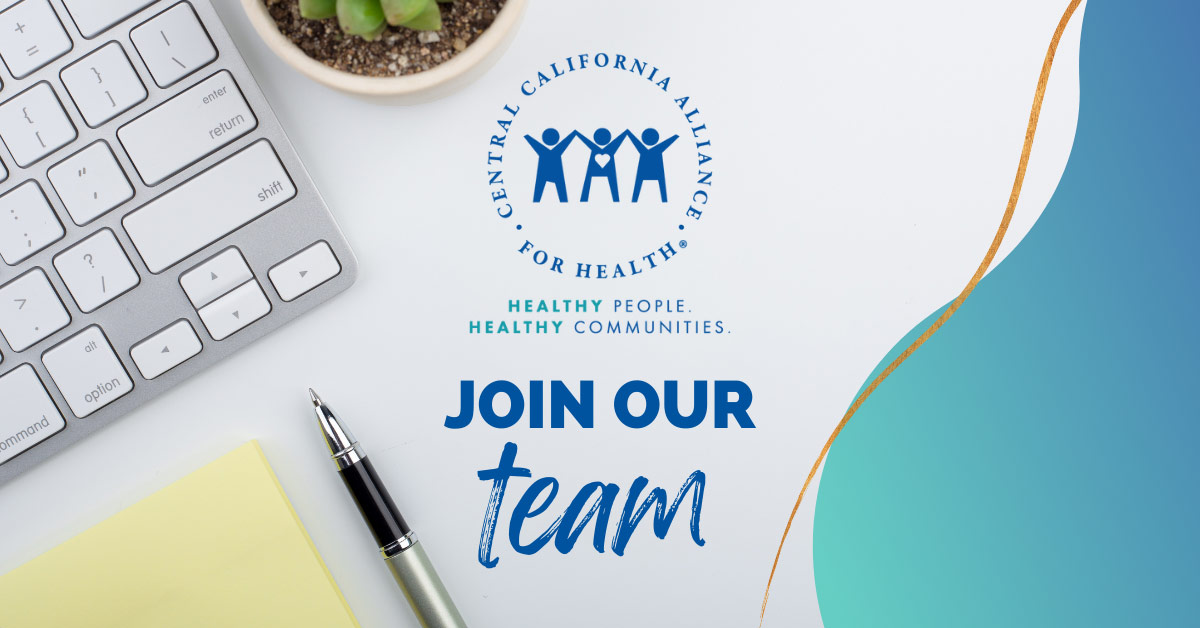 We have an opportunity to join the Alliance as a Provider Relations Representative in the Provider Services Department.
WHAT YOU'LL BE RESPONSIBLE FOR
Reporting to the Provider Relations Supervisor, you will research, analyze, and coordinate the resolution of complex provider payment concerns and assists with the resolution of provider issues and grievances. You will also:
Engage in and facilitate provider recruitment, contracting, communication and relationships in support of strategic organizational objectives
Respond to providers' educational needs by planning and conducting ongoing provider training and workshops
ABOUT THE TEAM
The Provider Relations team recruits, educates, advocates and supports the Alliance provider network. They are the "Face of the Alliance" and build and maintain strong relationships with providers.
ABOUT THE POSITION
Effective 1/1/24, the Alliance is expanding services into two new counties: San Benito and Mariposa. For this position, travel within San Benito County is required for this role to support new provider recruitment, to help build and foster provider relationships with the Alliance and to support provider needs. We anticipate 1-2 days of travel per week now, and that will increase up to 3-4 days per week starting in January when we officially go live in the county.
THE IDEAL CANDIDATE
You are motivated and excited to take be a part of the Alliance's journey of expanding into a new county
You understand why being face-to-face with providers is important and you are excited to travel within San Benito County to be the face of the Alliance for new providers
You have a background in healthcare and are experienced in working with physicians, other clinicians and front and back office medical staff
You seek to understand the root-cause of problems and work diligently to resolve them, not stopping or passing the buck to someone else along the way
You use good judgement, tact and diplomacy when interacting with providers and other stakeholders, especially when managing delicate or sensitive issues
You take ownership of your work and actively prioritize tasks with competing deadlines, keeping up with timely communication to providers
WHAT YOU'LL NEED TO BE SUCCESSFUL
To read the full position description, and list of requirements click here.
Knowledge of:

The principles and practices of customer service
Windows based PC system and Microsoft Word, Excel, Outlook and PowerPoint
Operating general office equipment, such as personal computer, laptop, telephone, printer, fax machine, and photocopy machine

Ability to:

Design and produce reports from a data-base reporting tool
Conduct research, gather information, analyze data and prepare recommendations and reports
Proofread and audit data for accuracy
Develop and implement effective provider recruitment strategies
Develop and prepare educational materials and conduct provider orientations and trainings
Apply sales and marketing skills when working with provider networks
Design work plans and organize work to handle multiple tasks simultaneously

Education and Experience:

Bachelor's degree in Business, Marketing, Public Relations, Health Care or a related field
Two years of experience in a health care, customer service, marketing or public relations environment [two (2) years of additional experience may substitute for the Bachelor's degree]; or an equivalent combination of education and experience which would provide the required knowledge, skills and abilities may be qualifying
OTHER DETAILS
While this position is connected to one of our Alliance offices, we are in hybrid remote/in-office work environment right now and we anticipate that the interview process will take place remotely.
Our Alliance office locations have officially re-opened as of May 2, 2022 and while some employees may work in full-time telecommute schedules, attendance at quarterly company-wide events or department meetings will be expected.
Based on the nature of work, this position may require onsite presence, which is dependent on business need. Details about this can be reviewed during the interview process.
Additionally, all positions at the Alliance are required to meet these minimum qualifications.
---
OUR BENEFITS
Medical, Dental and Vision Plans
Ample Paid Time Off
12 Paid Holidays per year
401(a) Retirement Plan
457 Deferred Compensation Plan
Robust Health and Wellness Program
Onsite EV Charging Stations
And many more
---
ABOUT US
We are a group of over 500 dedicated employees, committed to our mission of providing accessible, quality health care that is guided by local innovation. We feel that our work is bigger than ourselves. We leave work each day knowing that we made a difference in the community around us.
Join us at Central California Alliance for Health (the Alliance), where you will be part of a culture that is respectful, diverse, professional and fun, and where you are empowered to do your best work. As a regional non-profit health plan, we serve members in Merced, Monterey and Santa Cruz counties. To learn more about us, take a look at our Fact Sheet.
The Alliance is an equal employment opportunity employer. Qualified applicants will receive consideration for employment without regard to race, color, religion, sex (including pregnancy), sexual orientation, gender perception or identity, national origin, age, marital status, protected veteran status, or disability status.
---
At this time the Alliance does not provide any type of sponsorship. Applicants must be currently authorized to work in the United States on a full-time, ongoing basis without current or future needs for any type of employer supported or provided sponsorship.