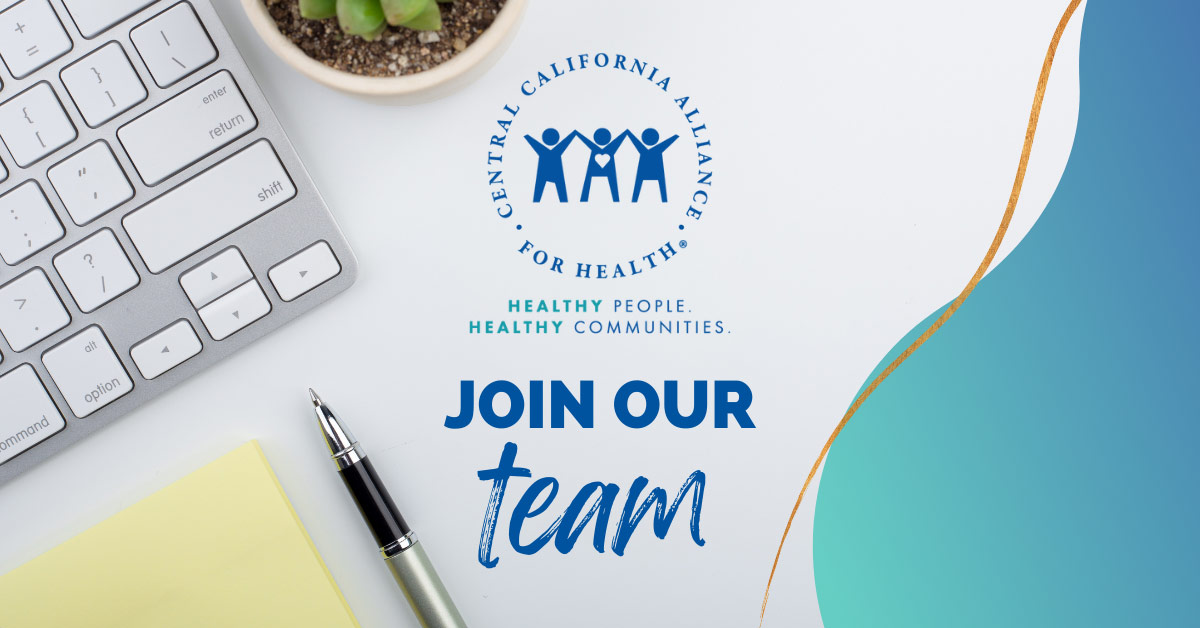 Who we are
Central California Alliance for Health (the Alliance) is an award-winning regional Medi-Cal managed care plan that provides health insurance for low-income children, adults, seniors and people with disabilities in Merced, Monterey and Santa Cruz, counties.
In 1996, the Alliance was established to improve access to quality health care for lower income residents who often lacked a primary care "medical home" and had to rely on the emergency room for basic needs. We connect members to the primary and specialty care they need.
Our Culture
We are a group of more than 500 dedicated employees who feel that our work is bigger than ourselves. At the Alliance, we value every employee and empower them to do their best work.
Guided by our values of Improvement, Integrity, Collaboration and Equity, we strive to fulfill our vision of "Healthy people. Healthy communities." This focus includes finding innovative solutions that lead to better health outcomes.
Career Growth and Advancement
We support career development through promotional opportunities in a growing, financially stable organization. Get on-the-job-training and gain experience in an exemplary managed care model. To further support your career journey, we offer full access to LinkedIn Learning and annual tuition reimbursement.
Support for Your Health and Wellness
We believe in supporting the whole person and offer a comprehensive benefits package that includes medical, dental and vision coverage for you and your dependents. In addition to 11 paid holidays per year, we provide ample paid time off. We recognize the importance of work-life balance, so we offer flexible scheduling and extra support when you need it most. To promote health and wellness, we provide reimbursements for gyms and online fitness classes. Your financial future is important to us. The Alliance contributes 10% of your salary to a defined contribution 401(A) plan after one year of employment. We also provide you with an opportunity to save voluntarily via our 457 retirement savings plan.
Hiring during COVID-19
With offices in three different counties in California, our leadership team is committed to following guidance from local public health officials and the state to ensure the health and safety for not only the members we serve as a health plan, but also for our employees.
All staff are working from home fulltime, except for specific business needs that require direct interaction or onsite attention. Employees will return to the office only when it's safe and appropriate to do so. Until we return, we're supporting our employees through additional flexibility in scheduling while we balance distance learning, caretaking and life during the pandemic.
Our commitment to potential employees: We are actively recruiting for the positions listed on our careers site and have modified our processes to support video interviews and remote onboarding of newly hired Alliance employees.
Our continued support of Alliance staff: Connection remains an important focus as we've adapted to a remote environment. We stay connected through virtual teambuilding events and celebrations, town hall meetings, lunch and learns with leadership, an employee newsletter, instant messaging tools, a staff Facebook page and internal community board.
Equal Opportunity
The Alliance is an equal employment opportunity employer. Qualified applicants will receive consideration for employment without regard to race, color, religion, sex (including pregnancy), sexual orientation, gender perception or identity, national origin, age, marital status, protected veteran status or disability status.
---
Frequently Asked Questions
Can the Alliance sponsor my visa? At this time the Alliance does not provide any type of sponsorship. Applicants must be currently authorized to work in the United States at the time of application and hire on a full-time, ongoing basis

without current or future needs for any type of employer supported or provided sponsorship

. As required by federal law, all newly hired employees must be able to provide evidence of eligibility to work in the United States. Acceptable forms of identification can be found on the www.uscis.gov website.
What happens after I send in my application? We look at each and every resume and application that we receive. A Recruiter will review your resume and qualifications against the position description for the job that you applied to. We'll get you updates as soon as we can about the status of your application. Once we have your resume on file, we'll also keep you in mind for other positions and may reach out with other opportunities that you might be interested in.
What are those temporary jobs that you have listed? Sometimes we have temporary (temp) positions that we hire in addition to our regular positions. The temp positions typically have a set start and end date but can change based on the business need. Usually the temp positions are covering an employee's leave of absence, or are working on a special project. We have all of our temp employees get signed up with a local temporary staffing agency while they are on an assignment with us. The temp positions can be a great way to check out the Alliance and learn more about the work that we do.
---
If you are a current Alliance employee, click here to sign-in and access the internal Careers Portal to submit your application.
---