Hello! It's nice to meet you. Anchor is a New York based startup aimed at democratizing audio. With the tap of a button, we enable anyone in the world to create compelling, high quality audio and instantly be heard anywhere (on our platform, on the web, in podcast players, on smart speakers, in cars, and much more coming soon). Google us and you'll find people commenting on the innovative, intuitive improvements we've been regularly bringing to the world of audio. In short, we are doing very cool things, and we'd love your help to do cool things better and faster!
As our second designer, you'll work on a huge variety of projects, ranging from mobile and web product design to illustration and branding, so you'll need a ton of flexibility and interest in every aspect of design. At Anchor, you'll get to work directly with our lead product designer and collaborate with our small, cross-functional team of engineering, product, and marketing team members. This is a unique opportunity to help build out the network for a consumer-facing and product-driven company that's backed by some of the best investors in Silicon Valley and NY. This is a full-time role based in New York City.
Responsibilities:
Support our lead product designer by working closely together to help define and enforce Anchor's style guide and strengthen the brand by ensuring that new features and product specifications align with our visual language

Assist in creating a variety of design assets including product specifications, process flows, wireframes, pixel-perfect mockups, and prototypes

Help conceptualize, design, and test new features across all three of our platforms - web, iOS, and Android

Participate in brainstorming sessions and design reviews

Assist with the creation and delivery of other design assets as needed
Requirements:
2 years professional experience, ideally with an interactive consumer product, or equivalent experience working on personal projects

Experience designing products for web and mobile

Should be very familiar with Sketch, Photoshop, and/or Illustrator; experience with prototyping software is a plus

Very open to feedback and iteration; your attitude should be "whatever is best for the product"

Organized and extremely detail oriented

Bursting with creative ideas, and not afraid to give them all a try

Proven ability to efficiently execute and quickly adapt without a lot of direct supervision

Strong written and verbal communication

Bonus points if you have worked with audio in the past, whether professionally or as a personal project (podcasting, music discovery/recommendations, etc)
Perks:
Competitive salary, stock options, and whatever hardware, software, books, and tools you need to get your job done

Benefits: medical/dental/vision insurance, 401k, flexible vacation policy

A small, fast-moving team full of very nice, very smart, very creative people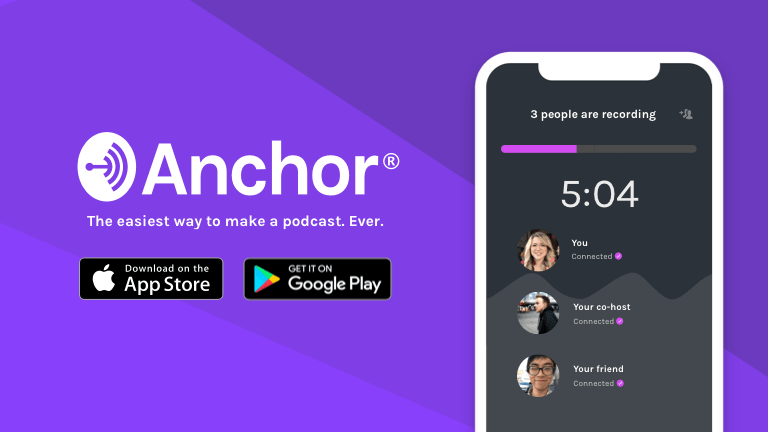 If you'd like to recommend a friend for this position, you can email us at jobs@anchor.fm.
Anchor FM Inc. is an equal opportunity employer, and does not discriminate due to race, color, religion, national origin, gender, sexual orientation, marital status, age, veteran status, or disability status.